EDUCATION: PITCHING, FUNDING AND TEAMWORK PUT TO THE TEST
Opening Doors for Student Startups
Wednesday, May 29, 2019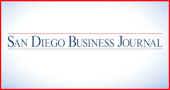 Some business ideas start in the lab. Others begin in dorm rooms. And a growing number of universities are offering programs that help students translate these ideas into startups.
Steve McCloskey and Keita Funakawa, co-founders of Nanome, dreamed up the idea for their business after graduating from the University of California, San Diego.
McCloskey, who got a degree in nanoengineering, was frustrated by the lack of options for 3-D modeling. He teamed up with Funakawa after the two met at a film festival.
Nanome is currently working on building a platform that would allow drugmakers to visualize proteins, DNA and other molecules through a VR headset. The company closed a seed funding round in 2017, one year after it had incorporated. It had also gone through UCSD's incubator program, The Basement.
Gloria Negrete, director of The Basement, said startups that go through the program often get a strong start with mentorship and help coming up with a business plan. Later on, some of these companies, such as Nanome, come back with jobs for UCSD students or graduates.
Tremendous Resources
"Early on in their academic careers, they're exposed to these kinds of resources where they can really experiment and play," she said. "When they get to the later stages (of a startup) with their idea, they can accelerate and be successful with their first startup."
The Basement was created in 2015 as an alumni-backed program at UCSD. It had 20 teams in its first cohort. Since then, it has grown significantly, with additional funding and 69 teams participating in the incubator. Currently located in UCSD's Arts and Humanities building, The Basement will be able to house more startups after moving into a new space next year.
The program is open to students from all colleges, from engineering to business to humanities, as well as both undergraduate and graduate students. Some students even choose to go to UCSD specifically for The Basement.
"We do see students very early in their academic programs wanting to explore an idea they've been kicking around, and wanting to develop into a startup," Negrete said. "We de-risk having to build products in your dorm, or look for space in a coffee shop on campus or elsewhere. It helps to have the space, the network of mentors and additional resources."
Culture Incubator
The Basement has three tracks for its yearlong incubator program: a beginner, intermediate, and advanced track, depending on how far along founders are in their business. It also is offering a culture incubator for the first time this year, as the university sees an increasing number of students with an interest in social impact businesses.
"One thing that's great about working with undergraduate and graduate students, they're coming in with a lot of enthusiasm and optimism for things that are really boundless," Negrete said. "The number of students we see now that want to have a positive impact, they're thinking about how (their startups) can be a good thing for communities and global markets."
Balancing Act
Of course, balancing a startup with coursework can be challenging. Negrete said students must learn to manage their time carefully and work well in a team. Students who are able to juggle the work graduate with a valuable set of skills, and, it is hoped, a promising company.
"They tend to be very scrappy and figure things out very quickly. They tend to surprise me with what they're able to achieve in one quarter," she said. "It's a lot of fun, the work that we do at The Basement. It's also humbling and inspiring to see 19-year-olds and 20-year-olds building companies."
Putting together a successful business concept is just the beginning. Students also need to learn how, and when, to raise funding.
SDSU's ZIP Launchpad
At San Diego State University's Zahn Innovation Platform Launchpad, students receive access to funding and additional resources as they proceed through the program.
ZIP Launchpad hosts 25 to 35 teams at a time, which are picked from more than 300 applications per year. Most of the teams are undergraduate students. They start with a semester of learning about how to pitch their idea and conduct market research in the first semester, and then apply in front of a panel of mock investors to stay in the program for subsequent semesters.
By the second semester, startups get an assigned mentor, access to a prototyping lab, and office hours with financial and legal experts. They also receive $5,000 to help jump-start their business, without giving up an equity stake.
If they make it to the final phase of the program, the companies receive access to one-on-one advising from staff, help with their funding strategy, and introductions to investors.
Cathy Pucher, executive director of ZIP Launchpad, said most startups that go through the program fund their companies through a convertible note with friends and family, university competitions and angel investors.
For example, Soul Much, a SDSU startup that makes cookies out of unused rice, carrots and beets from restaurants, has won about $45,000 in the last year-and-a-half from student competitions, Pucher said.
Several of ZIP Launchpad's advisory board members are also angel investors that have invested in some of its teams. CourseKey, a higher education startup that was founded in 2014 by SDSU students, raised $2.8 million in seed funding in 2017, including an investment from Tech Coast Angels.

Connecting After College
At the University of San Diego, leaders are testing new programs to help direct students interested in creating their own startups. USD began offering a new class, Torero Ventures Lab, last fall. Undergraduate and graduate students have to pitch their startup ideas to get into the class. Other students participate in one of the selected teams.
"We piloted (the course) last year with tremendous success, and we are running it this year again," Priya Kannan, faculty director for Torero Ventures, wrote in an email.
USD also opened a new small business development center on campus, The Brink, in 2017. Instead of being focused solely on helping USD students, The Brink is open to startups from any school, as well as later-stage startups. For example, The Brink is working with Aquacycl, GroGuru, Vivid Genomics and Hydrostasis, all of which were finalists in the San Diego Angel Conference this spring.

"The unique thing about it is you have students and very experienced people in the same room, and you have a level playing field," said Mysty Rusk, director of The Brink. "Between the university and the real world, we kind of bridge the gap."
Finding Accounting, Legal Services
The Brink offers one-on-one consulting services, training and workshops. For example, it can connect founders to accounting or legal services, and helps put together pitch practice and other events. Students who tap into The Brink's services can continue to use them after graduation.
"We jump into the experiential learning. Those students get access to everything that our regular clients get access to," Rusk said.