PROPERTY: RETREAT ON POINT LOMA TAKES CUES FROM SPAS, MEXICO
Resort-Style Home Can Change Your View of the World
Thursday, May 16, 2019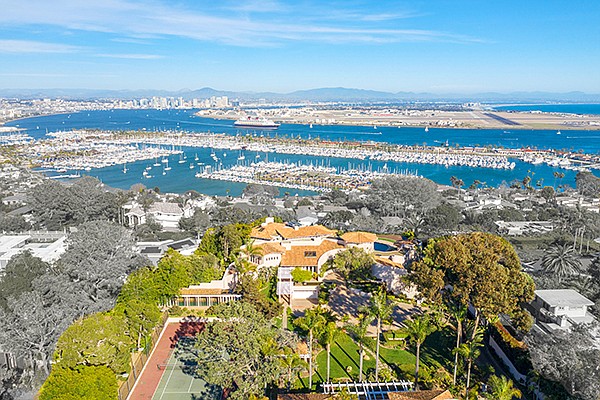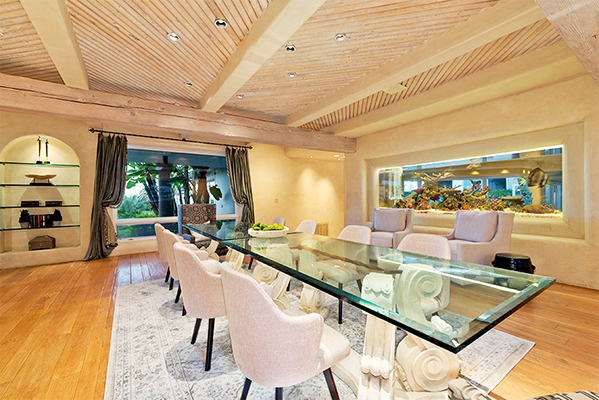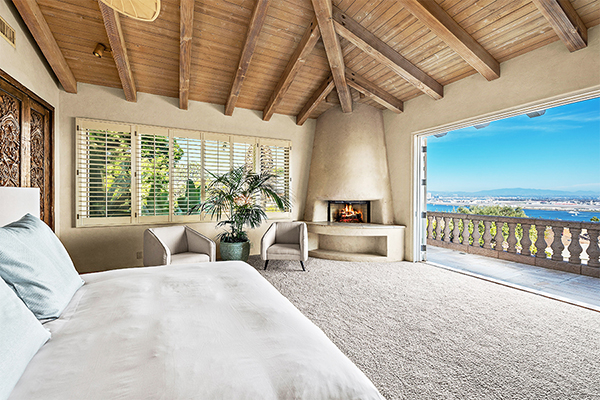 The upward sloping drive to this exceptional Point Loma estate leads past a two-story guest house at the bottom of the property toward a large motor court with a whimsical fountain in its center. Along the drive on the left, an arrangement of stepping stones cuts through the center of a large swath of green grass; mature tropical landscaping foreshadows the ambience of the interior. A wide stone stairway leads to a balcony and the massive wooden front doors of carved, frolicking porpoises.
It's from this moment the world falls away.
The view is all-consuming. The eye is immediately drawn to a banquet of bay views, blue sky, city skyline, hundreds of boats in the harbor, cargo and cruise ships coming and going, Coronado, mountain ridges and the vast expanse of open sea beyond.
Elizabeth Courtier, a realtor with Willis Allen Real Estate who has a degree in finance with an emphasis in real estate and a specialized designation from the National Trust for Historic Preservation, said this was exactly what the owner intended when he built the home.
The owner, along with his contractor, modeled the home after Del Mar's Rancho Valencia Resort & Spa, a Mediterranean-inspired, luxury, five-star resort on 45 acres of lush gardens and olive groves, as well as resorts in Mexico.
"He really wanted it to feel like the minute you entered those private gates, you were a world away, which I think he was very successful in (achieving), Courtier said. "You definitely feel that way when you're there — it was a total labor love."
The overarching goal was to provide every resort amenity that one could want. Some of those are: a lighted tennis court with a viewing pavilion, a fitness lap pool and spa in a separate wing and an inviting J-shaped "sunning" pool facing the view. The pool is surrounded by a large stone and wooden deck area that can be accessed from many points of exit from the home and is suitable for large gatherings or intimate parties.
The three-story home is 11,925-square-feet (including the separate guest home) with five bedrooms, two optional bedrooms for family or staff, seven full baths and two half baths. There's a two-car garage attached to the main home and because the owner is a car collector "a detached car collector's garage that can accommodate at least eight to 10 cars," Courtier said.

Prev Next