GENOMICS: COMPANIES WITH EX-ILLUMINA TALENT PROLIFERATE
Illumina Dominates DNA Sequencing, But Potential Competition is Afoot
Sunday, May 5, 2019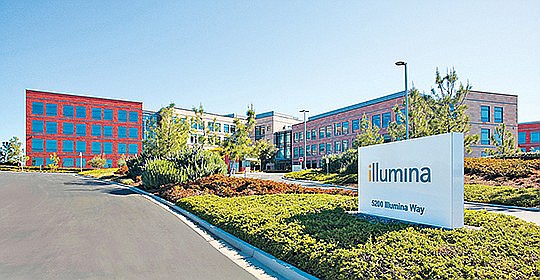 DNA-testing services like 23andMe. Hospitals searching for genetic clues to life-threatening cases. Breeding livestock for desirable traits.
The common thread in these DNA realms: San Diego-based Illumina, maker of machines that sequence the lion's share of genomes.
By recently inking a deal to acquire a smaller rival, Illumina has positioned itself to continue dominating the market. But potential competition is stirring, including in Illumina's backyard.
San Diego companies like Roswell Biotechnologies share a goal of making sequencing more accurate and less expensive, in what could be a direct or indirect competitive threat. It raises the question: How firm is Illumina's grip on the sequencing market?
Illumina delivers a comprehensive experience, from fundamental sequencing to data insight services. Analyst Puneet Souda said the company does this for a range of industries, giving Illumina scale that wards off competition.
"Illumina is able to serve multiple parts of the market very efficiently," said Souda, who covers Illumina. "It gives the company a solid protection in that sense."
Key Patents Set to Expire
Formed in 1999, Illumina's reign atop sequencing can be traced to eight years later. Illumina bought Solexa, a company that pioneered what's called sequencing by synthesis, a faster and less expensive method.
Illumina improved on the technology, while generating new patents. But the coming expiration of key Solexa patents could, in theory, open the door to competition. So said Shawn Baker, principal consultant at SanDiegOmics.com, a genomics consulting company. Baker started his career as a research scientist at Illumina.
"That said, even without the patents expiring, Illumina will likely start facing competition from other sources," Baker said, referencing U.K.-based Oxford Nanopore Technologies, a company built on technology that differs from Illumina's.
In San Diego, Roswell Biotechnologies, Singular Genomics and Omniome are pursuing DNA sequencing platforms. But it's unclear whether they aim to go head-to-head with Illumina, target part of Illumina's business or open up new markets.

"We are not at a point in our development where we think it would make sense to discuss for an article.  We do believe that by the end of this year or early next year we will be at a place to discuss," an Omniome spokeswoman said.
Last year, Omniome landed a $60 million series B round to develop DNA sequencing that claims to be accurate, fast and at a low cost. Roswell and Singular did not respond to interview requests.
"Unless they're raising money — and want to talk up the platform and technology to command better terms — there's generally no advantage to talk about what they're doing," Baker said. "They'd just be tipping their hat to Illumina who could then respond, either with actual projects or just vague claims of what they're working on for the future."

Prev Next