Life Sciences Leasing Activity Finished Strong in Q4 of 2018
Monday, March 18, 2019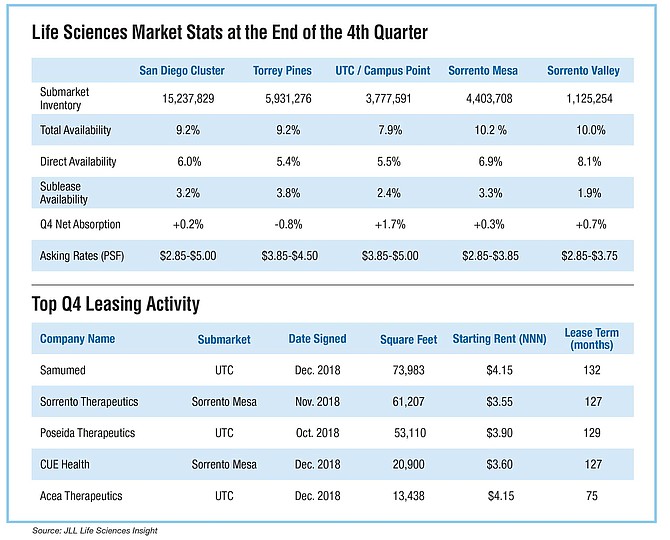 For San Diego life sciences the fourth quarter of 2018 was the strongest of the year from a leasing perspective.
Reversing a slow start to the year, the period saw more than 524,000 square feet of leasing activity, led by larger biotechs. That's according to a recent report from commercial real estate firm JLL.
Sorrento Therapeutics signed an 181,000-square-foot lease during the quarter, encompassing an extension of its two-building lease and expanding into a 61,000-square-foot facility in Sorrento Valley.
The company's drug pipeline includes an opioid alternative for osteoarthritis in the knee that generated positive phase 1b clinical results in January.
On the heels of a $438 million financing round, Samumed inked a lease totaling 73,900 square feet in La Jolla. With that, Samumed's footprint grew by 40 percent.
Poseida Therapeutics, which in January filed for a $115 million initial public offering, about tripled its space with a 53,000-square-foot lease.
Other notable leases during the period included Cibus, CUE Health, Cardea and Qpex Biopharma.
"Overall movement in the life sciences market remains healthy. Strong leasing in the fourth quarter helped fill some large vacancies, a trend that is expected to continue during the first quarter of 2019," the report states.
Rents continue to increase. They ranged from $3.85-$4.50 per square foot in Torrey Pines and $3.50-$5 in UTC, the two priciest San Diego submarkets.

But San Diego rents are still below San Francisco and Boston, the country's two largest life sciences markets.
Looking at 2018 in its entirety, leasing activity totaled 1.36 million square feet.
"While the total number of deals signed in 2018 was on par or better than past years, total gross leasing during the year was below 2017 figures and below the five-year annual average. This was primarily due to activity from larger firms being non-existent during the first half of the year," according to the report.
"There were only two transactions completed above 35,000 square feet between January to June. However, this trend saw a dramatic shift during the second half of the year," the report said.