San Diego Digital Health Accelerator Nex Cubed Names First Cohort
Sunday, March 3, 2019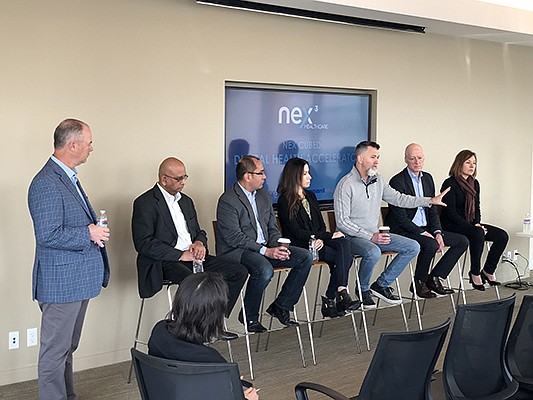 A new startup accelerator in San Diego welcomed its first cohort of startups in February. Seven companies from across the U.S. were picked for Nex Cubed's first Digital Healthcare Accelerator, which accepts biotech and health care companies with a software component.
Parent company Nex Cubed is based in San Francisco. To date, it has graduated more than 250 companies, 30 of which have seen exits. It has also invested in three local companies: MedCrypt, NXT Robotics and Trials.ai.
In San Diego, Daniel Haders, an operating partner for Sway Ventures, is heading up the accelerator. Nick Phillips, a local entrepreneur and engineer, is program manager.
They hope the accelerator will help carry mid- and late-stage startups to their next milestone by pairing a small group of startups with targeted advisors. In the long term, they also hope it will attract promising digital health companies to San Diego.
Haders said they decided to cap the accelerator at eight or nine startups to be able to dig deeper with each company.
"It comes down to the quality of advisory services and mentorship that we can provide," Haders said. "We're not just focused on getting a demo day deck ready. … No matter where these companies are, the goal is to get them to the next commercial inflection point which drives them to their next financing."
Collectively, this spring's participants have raised more than $4.9 million before joining the accelerator. For most, Haders expects their next round of funding would take the form of a post-seed round or a Series A round.
"We do tend to cater to founders that have been around the block," Haders said. "They realize how hard it is to do these things. That's why they're part of this program."
In exchange for a 6 percent equity stake, participating companies receive $25,000 in cash, access to an 11-person advisory board, with members ranging from a Bayer executive to a former U.S. Food and Drug Administration deputy commissioner, and a 14-person investor advisory board.
The program has attracted some familiar faces in the San Diego startup scene. Local advisors include Ashok Kamal, executive director of Tech Coast Angels; Amy Chang, local angel investor and health-care analyst with Staffing Industry Analysts, and Julie Fishman, co-founder of Quality Specialty Pharmacy.
Phillips said advisors are paid, and have set office hours with each company, to ensure startups get the most out of the program. Phillips said that concept was based on what he wished he had when he started his first company.
Prev Next