HEALTH CARE: REIMBURSEMENT CODES OPEN DOOR FOR REVENUE
Tech Startups Tackle Mental Health Care
Wednesday, June 19, 2019
The mental health system is often called broken or fragmented. That's created an opening for San Diego tech companies.
With greater awareness of the mismatch of mental health needs and services, startups have sprouted to take on deficient access and lengthy waits for care. These upstarts see a big business opportunity, but scaling can be difficult in the fledgling market.

Not so much for Concert Health, though, which keeps inking contracts.

Primary care providers outsource behavioral health services to the San Diego company. Concert employs psychiatrists and care managers, who do screening, therapy and consultations, usually remotely.
This eases the burden on busy doctors who can miss mental health symptoms. Patients can get care right away, too, instead of struggling to find a psychiatrist through a doctor referral.
"The longer you put between the referral and when they can start services, the less likely they are to go to that first appointment," said founder and CEO Spencer Hutchins.
This isn't his first foray in digital health. Hutchins co-founded Reflexion Health, a San Diego company that specializes in guided physical therapy exercises at home, complete with audio-visual feedback.
In 2015, though, he found a new calling.
"I was getting convinced that most big problems in health care needed more than just better technology, sort of the rot in the U.S. health care system goes deeper than our apps not being good enough," Hutchins said.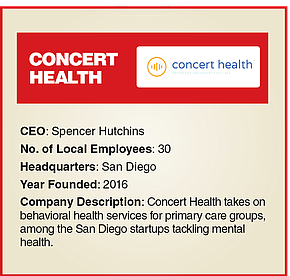 Clearing Reimbursement Hurdle
More important than technology was the right model. Concert Health formed in 2016 around bridging mental health and primary care.
Reimbursement codes established last year pay providers who do just this, fortunate timing on Concert's part.
With reimbursement, Hutchins said Concert expects to be profitable soon. In addition, the company brought in a $2 million seed round this spring, on top of more than $500,000 in earlier pre-seed funding.

But Concert must overcome low awareness of its model. Hutchins said it's an easier sell in San Diego and wider Southern California, where there has long been an emphasis on tying reimbursement to patient outcomes.
Doctor Shortage
With a national shortage of psychiatrists and other health professionals, it can be tough for companies in the space to scale. Key then is identifying high-risk populations and then educating them on care paths so they don't drain company resources.
So said Daniel Haders, managing director of health care tech for Nex3, a digital health accelerator.
"A lot of the challenges high-risk populations are facing can be mitigated through information and mitigated through technology," said Haders, who works out of Nex3's San Diego office.
Prev Next