NEW FUND SEEN AS INCREASING DIVERSITY OF MEMBERSHIP
Exec Q&A: Caitlin Wege, Tech Coast Angels
Wednesday, June 5, 2019
Local angel investor Caitlin Wege was named the incoming president of Tech Coast Angels — San Diego. The angel investment group has seen membership grow in the last year, and is already on pace to beat last year's investment levels, having invested $7 million as of May. TCA San Diego also rolled out a new $2.3 million ACE (Angel Capital Entrepreneur) Fund this year, that allow angel investors to pool together their resources to quickly provide up to $500,000 to promising startups.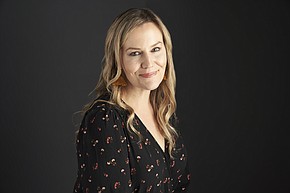 Wege has served on TCA San Diego's board for two years. She is also a partner with family fund MooDoos Investments, which invests in seed and early-stage startups across all sectors. Some of its local investments include NeuraLace Medical, Clics and Sourcify.
Outside of her work with MooDoos, Wege serves as a board member of the Ecology Center in Orange County and serves on the advisory board of San Diego State University's ZIP Launchpad. She also has two young kids.
Tell me about your work with MooDoos:
I transitioned from a passive partner (at MooDoos) to a full-time partner about five years ago. My dad has been doing this for 30 years. We're not an impact fund, but we're looking for something that creates more than monetary value —something that makes a difference.
For some companies where we've come on as early lead investors, we've been involved to the exit. Our most successful ones are where we can offer more than money. Where we can just be a phone call away.
How did you get involved with Tech Coast Angels?
It was because I had decided to move into a full-time position with our family fund. I needed to get to know people and I needed deal-flow. I stayed because I love the people.
We're able to roll up our sleeves and tap into the collective knowledge of the group. We're tech entrepreneurs, life sciences C-suite managers, designers, real-estate developers, M.D.s and surgeons. It's really cool to see what's in the room when we're meeting a company.
How has it changed in the last five years?
I've been with the organization for about five years and there's been a big transition. One of the big things Tech Coast Angels was trying to do was create more diversity.
We're starting to see more young and diverse founders. Tech Coast Angels' membership wasn't reflecting the ecosystem. We needed to make a cultural shift.
Prev Next