Executive Q&A: Brian Malarkey of Puffer Malarkey Collective
Tuesday, January 29, 2019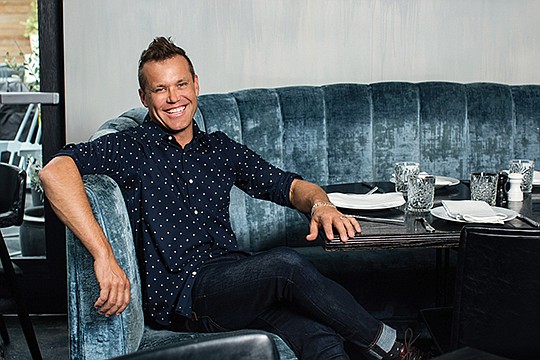 Chef Brian Malarkey doesn't shy away from the spotlight.
On any given day, you can find the San Diego-based, Oregon-raised restaurateur serving as a judge on Food Network's "Guy's Grocery Games" and making regular appearances on nationally-televised programs like "The Today Show" and "Good Morning America."
Malarkey welcomes his celebrity chef status not because he's presumptuous — although seeing one's name in bright lights can be exciting. But, because he understands how instrumental the reputation and on-camera-presence has been for the growth of his Puffer Malarkey Collective.
Launched in 2016 with partner Christopher Puffer, the restaurant group has five properties: Herb & Wood, Herb & Eatery, Green Acre Campus Pointe, Green Acre Nautilus and Farmer & The Seahorse. In 2018, Herb & Wood made north of $9 million alone. The group's revenue growth from 2017 to 2018 was close to 10 percent. Two more concepts, Herb & Sea and Animae, are already in the works, each for a debut. To date, the Little Italy-headquartered company has approximately 250 employees.
It's been huge," Malarkey said about the impact that being a public figure has on his business. "Back in those days when I started, there weren't all of these reality shows or YouTube, Netflix or anything like that that was hugely popular. Luckily, I've still been able to stay on TV with a lot of stuff on the Food Network, ABC's "The Taste" and appearances on 'The Today Show', among others." He adds that he also currently has a national commercial on NBC's Bravo for a company called Monogram Appliances.
Although the air-time is an added bonus for Malarkey and his company, it isn't all a business needs to succeed.
Here, he shares with the San Diego Business Journal readers what makes his group profitable, his thoughts on tip credits, why Uber is a gift to the restaurant industry and what else he's got cooking up this year.
When did you realize you wanted to be a chef?
I grew up in Bend, Oregon, on a ranch, raising our own beef and with gardens. I was brought up by a single mom, and, so, to help, I started cooking for the family when I was young… I went to college for a little while, but I soon realized I wasn't a nine-to-five type of guy… One day my dad said, 'why don't you go make a living doing what you enjoy?' I said, 'what is that?' He said, 'you're a cook.' So, I went to culinary school, then went to work at a restaurant in Los Angeles called Citrus, and fell in love with teamwork, passion, energy — the whole thing. That is where I got bugged.
Prev Next