TRADE: U.S.-CHINA TRADE WAR TAKES TOLL ON MID-SIZE COS.
Tariffs Bring High Cost Of Undoing Business
Sunday, January 27, 2019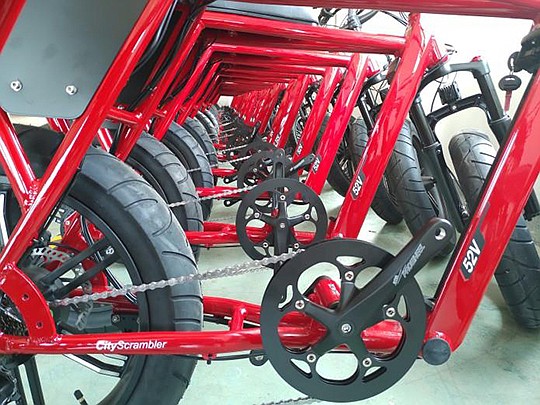 Juiced Bikes celebrated opening its first factory in China just over a year ago. The electric bike company, which has about 20 employees at its Chula Vista headquarters, had big plans for growth.
Juiced Bikes had built up its cash reserves through a strong holiday sales season and a successful crowdfunding campaign, where the company raised just over $1.1 million. Then, last August, a 25 percent U.S. tariff on imported electric bikes let the air out of its tires.
"Our supply chain doesn't have the flexibility to move production to new locations so we're forced to pay the tariffs at the expense of our growth plan — which includes hiring local workers here in San Diego and bringing competitive paying jobs to the area," Scott Anderson, the company's marketing director, wrote in an email.
The company had to pay hundreds of thousands of dollars to get stock released for orders made before the tariffs hit. Unable to recover its investment, Juiced Bikes raised the prices of some of its products.
Juiced Bikes isn't the only local company to have been rattled by the ongoing trade war between the U.S. and China. The sweeping tariffs hit San Diego's technology and energy sectors hardest, causing companies to raise prices or shift their supply chains.
According to the U.S. Chamber of Commerce, the retaliatory tariffs affect more than $13 billion in California exports to China, on top of an additional $1.6 billion in combined exports to Mexico, Canada and the European Union.
Recent reports hinted that the U.S. and China are getting closer to reaching a deal, but it's difficult to say when — or if — that will happen. Even with talk of potential relief from the tariffs, San Diego companies are focused on recovering their losses.
"I am hopeful the two governments come to an agreement on trade; however, it is not clear that will happen anytime soon and it is not clear if the tariffs will go away as part of any agreement," said Joe Wilkinson, chief financial officer of Taiyo Yuden USA Inc., a Japanese electronics company with offices in Solana Beach. "The main issue in my industry is that it is highly unlikely that our products would ever be made in the U.S., hence, these tariffs will not bring jobs back to the U.S."
Taiyo Yuden manufactures electronics components in five Asian countries. The company's main product — multilayer ceramic capacitors — is sold to smartphone makers such as Apple Inc. to help control the flow of electricity to semiconductors.
Prev Next