Genetics Organizations to Merge Platforms
Sunday, January 27, 2019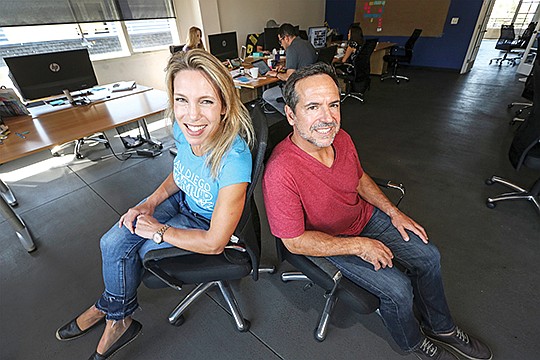 LunaPBC — a Solana Beach startup that in December launched a first-of-its-kind platform that gives shares for contributing DNA data — is joining forces with a like-minded nonprofit.
The company will merge its platform with Washington , D.C.-based Genetic Alliance, which built a portal used by 45 disease groups to supply health data for research. Participants have complete control over their data, Genetic Alliance says.
Likewise, LunaPBC — a public-benefit corporation that operates LunaDNA.com — has touted data transparency. At the website, individuals are compensated for contributing de-identified data in response to queries from researchers, nonprofits and for-profits and other organizations.
The platforms are merging but not the organizations themselves. Deal terms, including finances, were not disclosed.
Once combined, LunaPBC will manage data from both organizations.

"Together we can collect more types of data, and then we can use Luna for what we're focused on, which is aggregation, organization, structuring, research readiness," said Dawn Barry, president and co-founder of LunaPBC.
Users can take off uploaded data.
"Anytime anybody wants to leave the platform, they leave with all their data, no shadow of a trace left behind," Barry said.
Barry and CEO Bob Kain are former Illumina executives.
Ron Ribitzky, a national consultant in precision medicine and health informatics, took a favorable view of the collaboration. He said it's lessening the gap between consumers and research labs.
"This is required to make sense of the data tsunami that overwhelms precision medicine practitioners and consumers alike," Ribitzky said.
He added the partnership is burnishing San Diego's reputation as a digital health ecosystem.
LunaPBC has made a point to differentiate itself from companies like 23andMe, which sells users' genetic information without paying them.
Profits from researchers' efforts — say a drug that hits the market — would flow to shareholders in the form of dividends. Users receive shares in exchange for health data.

In SEC filings last year LunaPBC estimated a whole genome, for instance, would initially be worth $21, or 300 shares. Health data's value is expected to increase as the platform grows.
Those contributing health data to Genetic Alliance's platform will be eligible for LunaPBC shares, which can be kept or donated to charity.
Sharon Terry, president and CEO of Genetic Alliance, said the organizations united around building a new model.
"The biomedical research enterprise tries to cut corners and sever people's connection to their data, or keep it opaque how individual health data is used and who gains access to the data individuals provide," she said in a statement.