WORKFORCE: HIRING IS LEADING TO BATTLE OF BENEFITS AND AMENITIES
Tech Cos. Look to Woo, Wow Talent in Competitive Sector
Wednesday, January 23, 2019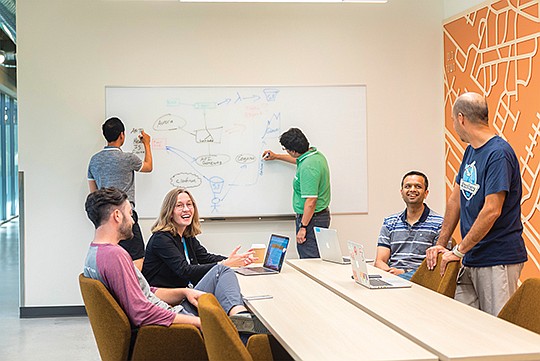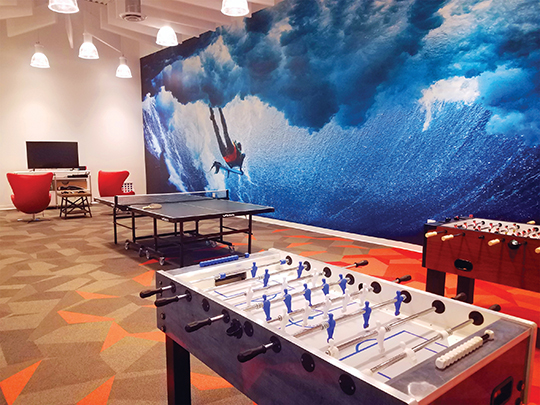 The competition for tech talent is heating up in San Diego. With more corporate giants establishing offices in the area, local companies are having to go the extra mile to attract experienced engineers.
From more traditional benefits such as bonuses and company stock, to more creative plays, such as unlimited paid time off and in-office arcades, companies are doing everything they can to keep up with the Joneses.
"It's gotten significantly more competitive," said Kelly Feest, managing partner of Proven Recruiting, a Sorrento Valley placement agency that specializes in tech, finance and accounting. "Low unemployment — that's being coupled with some of the bigger names that are coming into the space and making a local presence."
Apple's Plans
Local tech giants Qualcomm Inc., Viasat and ServiceNow have had a presence in San Diego since their beginnings. But now, big brands including Amazon, Walmart Labs, and soon, Apple Inc., will compete for the same talent pool. The iPhone-maker plans to hire 1,000 tech workers at its planned site in UTC in the next three years.
Amazon.com Inc. moved into its new San Diego offices last May. The company had 200 local employees at the time, and hoped to grow its headcount to 500.
Nate Wiger, the head of engineering for Amazon Fresh who helped launch its San Diego office, said Amazon had more than 250 people in its offices. The company is still hiring software engineers, managers and technical program managers for its Amazon Fresh and Prime Now businesses.
Taking the Next Step
Wiger said he pitched the idea of opening a San Diego office to leadership after he and his co-workers made the commute daily to Irvine. The two metros were comparable in terms of size, education and cost of living, so he betted on San Diego as another success.
"We knew we were having success with an office in Irvine, so why wouldn't we have similar success with an office in San Diego?" Wiger said.
So far, Wiger said Amazon has been able to pull in local talent, supported by the area's ecosystem of universities and tech companies.
"The feedback we keep getting internally is we're having such great luck hiring and we're so excited that I think we're just going to keep growing," he said. "I do think San Diego as a tech hub is starting to gain awareness. As you look at it, it's been an overlooked market, and people are figuring it out."
Prev Next