ECONOMY: DEFENSE, TECH AND TOURISM TO HELP S.D. BEAT NATIONAL NUMBERS
2019 Look Ahead: Diverse Sectors Bring Balance to Economy
Monday, January 7, 2019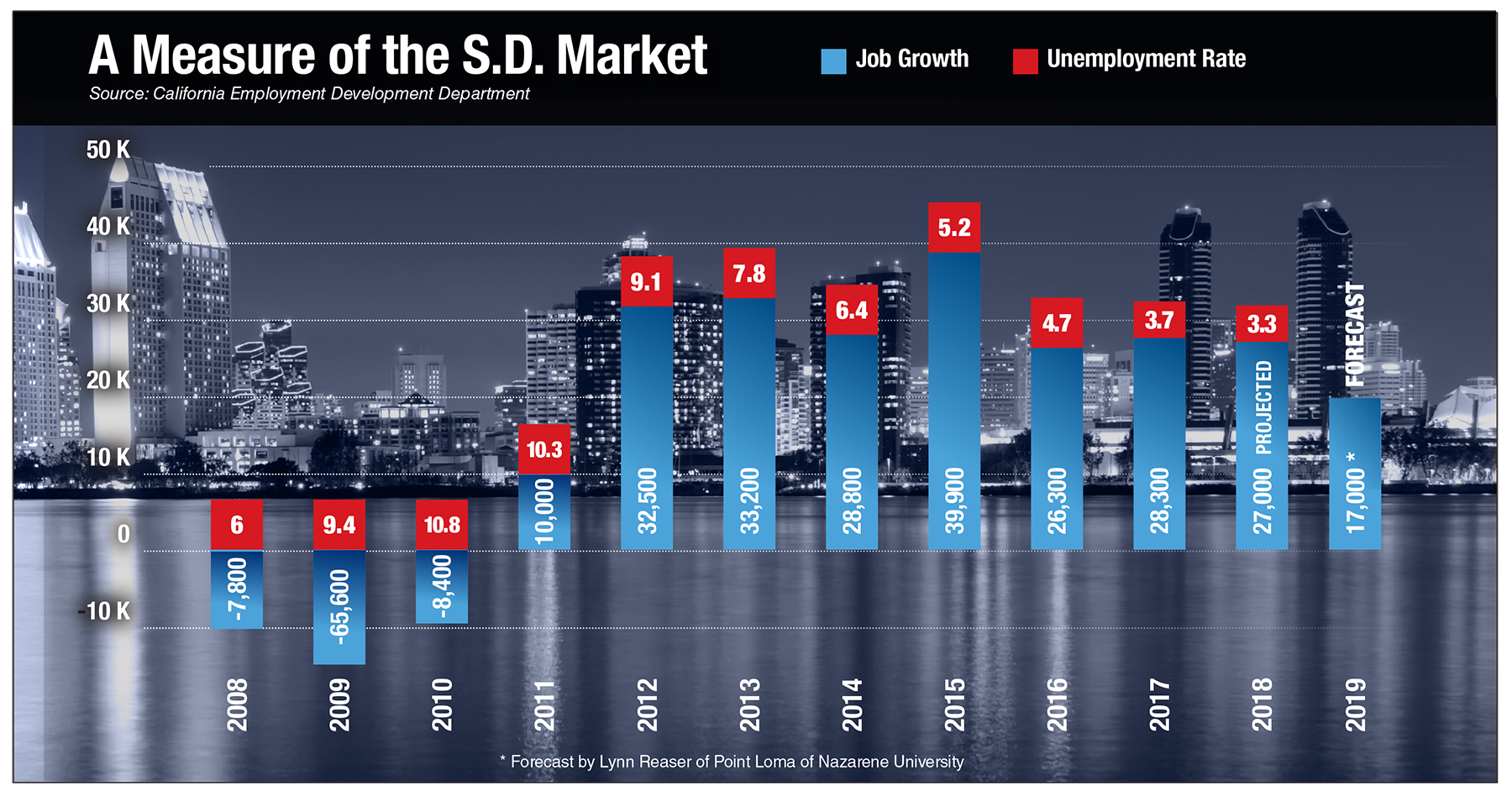 San Diego's economy will likely run faster than the national economy in the coming year.
That is the consensus of economists consulted shortly before revelers converged on the Gaslamp Quarter to welcome 2019 at midnight.
San Diego continued its run as a job-creation machine in 2018 as employers added an estimated 27,000 jobs to local companies' payrolls. That machine may not run quite as hot in 2019. Lynn Reaser, chief economist for Point Loma Nazarene University, predicted San Diego employers will add 17,000 jobs in the coming year, a 37 percent decline, though still a respectable number.
While the stock market has turned jittery, the economists said that fundamentals are solid.
For example, state government figures point to an average 3.3 percent unemployment rate in San Diego County during the first 11 months of 2018. The November unemployment rate was 3.2 percent.
Recession Worries?
"No recession in sight," said Robert Kleinhenz, economist at Beacon Economics of Los Angeles.
Slowing global growth and higher interest rates may hold back economic growth, said Point Loma's Reaser.
"San Diego's economy should slightly outperform the U.S. economy because of its core strengths in defense, technology and tourism," she said. "The military has secured significant funding for fiscal year 2019. Demand for cybersecurity, biotech and computer science applications remains strong."
Consumers might take their cues from what they see in the national news, and from the slowing housing market.
There is such a thing as a "reverse wealth effect," said Alan Gin, professor in the University of San Diego's School of Business Administration. Just as consumers feel more comfortable spending money when home values go up and the value of the market goes up (the wealth effect), they might restrain spending as they see the values of their homes decline, and the stock market decline.
San Diego will continue to feel the benefits of its diversified economy, which does not rise and fall on the fortunes of a single vertical market. Real estate, technology and tourism are just some of its facets.
CRE Outlook
Commercial real estate is expected to continue the strong pace it set in 2018 with the possible exception of single family home sales, which faltered in mid-2018 and continue to be soft.
Tim Olson, a managing director in JLL's San Diego office, said the outlook for 2019 is good with little likelihood of a slowdown, although rising interest rates could temper things.
Prev Next