Executive Q & A - Patty Maysent
Sunday, April 28, 2019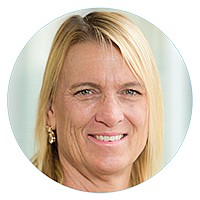 Hospitals are changing with the times, particularly with the introduction of new technologies, as well as a changing funding paradigm. Special Sections Editor Brad Graves, with the help of Health Care Reporter Jared Whitlock, asked several senior hospital executives about the advent of new technologies and approaches — in short, what we might expect from the hospital of the future. Here are their edited responses.
Patty Maysent
CEO UC San Diego Health
Q: Health care is moving toward an emphasis on outcomes and value rather than volume. How is your hospital system preparing for this shift?
A: We're in the midst of a service delivery transformation that we think will position UC San Diego Health as, not only the regional destination for the treatment of complex illnesses, but also the health system of choice for healthy populations who want access to more basic services, including a wide range of wellness services with the security of knowing patients have access to a vast array of nationally recognized specialists if needed.  As part of that transformation, UC San Diego Health is aggressively expanding its regional footprint through the expansion of our community affiliations and the development of our Community Care sites in neighborhoods where our employees and patients live and work. Convenience, access, and an enhanced digital platform for patients are major components of the UC San Diego Health strategic plan. We want patients to have access to the highest quality services and providers in the region from their homes, in their neighborhoods, or at the most advanced facilities without the stress and hassles that typically surround health care.
Q: From a business perspective, what's the greatest challenge and opportunity in San Diego health care right now?
A: From the prospective of providers of health care services, our greatest challenge is balancing the health care needs of our most vulnerable populations with the funding available to support their care.  Looming cuts to Medi-Cal inpatient reimbursement via the Disproportionate Share Hospital Program will only exacerbate this problem, especially for systems like UC San Diego Health which are highly dependent on these funds to maintain care levels for these vulnerable patient populations.  UC San Diego Health remains committed to serving the community including those who suffer from mental health, substance abuse and homelessness issues, but today's system of care is highly fractionated.  This leaves gaps in transitions of care and creates high utilization in expensive venues like inpatient beds and emergency departments.
Prev Next