BUILDING: PROJECT OFFERS COMMUNITY INSPIRING AMENITIES AND VARIETY OF HOME STYLES
Small Town Charms May Be Big Selling Point
Monday, April 15, 2019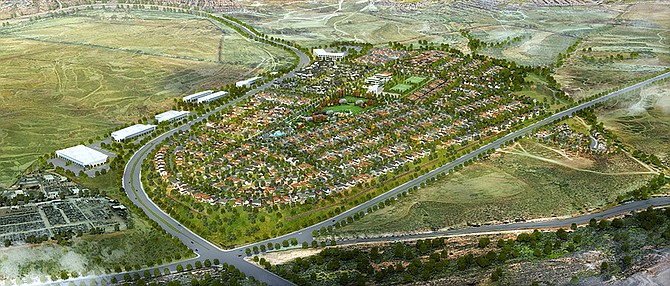 In Escaya, homes of various designs by the three builders on the project are mixed together, and the architecture shifts, with stucco still the dominant exterior finish but with a scattering of homes with wood siding mixed in.
That, too, is meant to evoke the feel of an old-time small-town neighborhood.
"You could probably drive down a street for blocks without seeing another house like your house," Aden said.
Starting at $400,000
Prices start at just over $400,000 for townhomes of 1,287 square feet with bigger homes of 3,138 square feet to 3,704 square feet starting at just under $700,000.
Some of the larger homes also have so-called granny flats, or casitas, which are almost like their own apartments that can be used by extended families or renters.
Monthly homeowner association fees are $125, Aden said, and he said there's a monthly community facility fee that varies depending on the size of a home. The community facility fee goes toward providing new schools for the neighborhood.
Apartments in the Mix
In addition to for-sale homes, Escaya will have 272 rental apartments in a mixed use village center that will include retail and restaurant space on the ground floor. The apartments will begin leasing in the summer with lease rates still to be set, Aden said.
A network of pathways weaves through Escaya connecting to the Otay Ranch trail system to give the community a walkable feel.
Among the more prominent amenities is a two-story fitness center that offers group exercise and yoga classes on the first floor with heavy-duty workout equipment on the upper level and a large swimming pool with a separate section for lap swimming and a children's pool.
Overlooking the pool is a 3,700 square-foot clubhouse that includes a chef's kitchen.
Still under construction is an eight-acre community park with six kiddie soccer fields, a full-sized basketball court and an outdoor amphitheater.
The project also includes an elementary school site, and a Boys & Girls Club.
Land Is Big Draw
Developers such as HomeFed are drawn to South County for a simple reason — there's land to build on, said Mark Goldman, a market analyst with C2 Financial Group.
"So much of San Diego County is already developed and homes can be developed down there at affordable pricing. It does seem to be the path of development," Goldman said. "Other areas are much more infill sort of development."