FINANCE: CO. GETS GOOD GROWTH IN FOOD AND BEVERAGE SPACE
Fintech Smooths the Way for Both Purchases and Payments
Thursday, September 13, 2018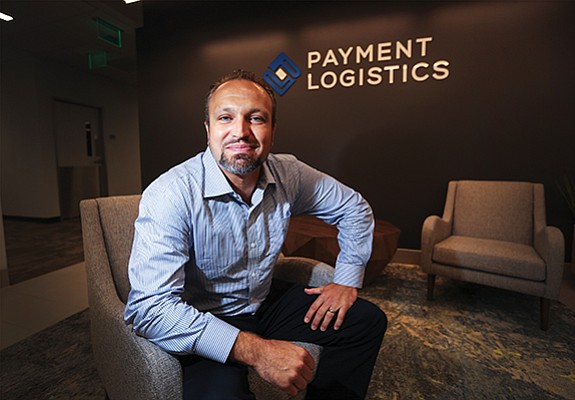 PAYMENT LOGISTICS
CEO: Dustin Niglio
Revenue: $58 million in 2017; $43.3 million in 2016
No. of local employees: 40
Investors: Members of the Niglio family
Headquarters: Torrey Pines Mesa
Year founded: 2003
Company description: Electronic payment processor and fintech company
San Diego — Payment Logistics is a company that Southern Californians might encounter when they go out to their favorite eateries. Unobtrusive as it is, some 99 percent of diners will have no idea it's there.
It gets involved when the customer wants to pay with plastic. The San Diego business works on behalf of merchants and other businesses, helping them accept credit and debit card payments. "We make it really easy," CEO Dustin Niglio said.
More and more, restaurateurs and other merchants have been bringing Payment Logistics to the table. The electronic payment processing specialist has grown its top line 64 percent over two years, from $35.4 million in 2015 to $58 million last year.
Hospitality Businesses
The food and beverage space drives a large part of its business. Rounding out the company's clientele are other hospitality businesses, not to mention supermarkets and convenience stores, plus other retailers, both brick-and-mortar and online.
Often, Payment Logistics partners with the company that provides a merchant's point of sale system.
The world of credit and debit cards has an acceptance side as well as a card-issuing side. Payment Logistics works squarely on the merchant acceptance side, vetting merchants and insulating a bank from liability. It also provides security services.
Payment Logistics has operated in the black since 2006. For a 40-person firm, $58 million in revenue doesn't go as far as it might appear, the CEO said. Card brands and the banks issuing those cards get their cuts of the revenue; "there are a lot of moving parts" to payment processing. Still, Niglio said, "you build a big enough client base and you can make a successful business out of it."
Payment Logistics, which also includes brother Britton Niglio, has a threefold business. It is:
• A full liability merchant account provider (sponsored by Wells Fargo Bank),
• A payment technology and gateway provider, and
• A payment technology inventor.
Niglio recently showed off an example of that last aspect. A product called PayLink lets a restaurant customer use his or her smartphone to add to an order or settle a check. Right now PayLink is in beta testing.
Improving Service
Such technology could increase sales at a restaurant, Niglio said. It could make the difference between whether a customer stops with the drink he's finished, or decides to have another. Servers can get overwhelmed, and often the number of drinks a person orders "has to do with how on-point the service is," the CEO said. PayLink, which requires no download time, may improve the speed of service and the speed tables are turned, he added.
Prev Next