Grants Will Deliver Nutritious, Much-Needed Meals to Kids
Sunday, September 9, 2018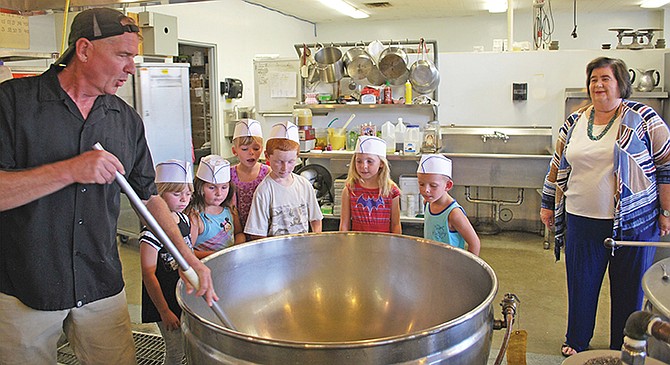 San Diego — The San Diego Food Funders, a funding collaborative of San Diego Grantmakers, provided grants of $356,000 to in-school and out-of-school youth meals programs in San Diego County to improve access to nutritious food for youth of all ages in low- to middle-income communities. Regional philanthropic organizations have stepped up with significant funds to help provide healthier meals to local youth before, during, and after school.
In the city of San Diego alone, more than 100,000 children live in economic hardship (below 200 percent of the federal poverty line); throughout the county 16-38 percent of children are in this situation according to Data: Center on Policy Initiatives San Diego.
Vice President of Collaboration and Special Initiatives Megan Thomas said: "Many of these children are eligible to receive free and reduced-price meals, but they don't all participate in nutrition programs — particularly evening and summer programs. Improving access to, and nutrition of,, meals consumed by youth not only combats hunger and improves nourishment, but can improve young people's social-emotional and educational development."
Father Joe's Villages, Feeding San Diego, Kitchens for Good, the Lakeside Unified School District, San Diego Hunger Coalition and Somali Bantu Association of America will each receive a one year grant to fund infrastructure, staff capacity and youth advocacy projects such as upgrading a school kitchen built in the 1960s, adding new sites so more kids can eat, and supporting student advocacy for culturally appropriate meals in their schools. Visit sdgrantmakers.org.
• • •
The SDMAC Foundation, a nonprofit organization that is part of the San Diego Military Advisory Council, which supports the active-duty and retired military communities through program initiatives funded by tax-deductible donations, announced that a continued collaboration with San Diego State University to provide discount ticket vouchers for active-duty and retired military personnel to attend 2018 Aztec football home games. Vouchers can be purchased at San Diego area military ticket offices for $8 each and redeemed at the San Diego County Credit Union stadium ticket window for seating in select sections.
Pete Hedley, president of SDMAC Foundation said: "To date, 39,239 active-duty and retired military personnel have enjoyed the vouchers. This program is another way in which SDMAC Foundation is working to positively impact the military and veterans in our community." Visit sdmac.org/foundation.
• • •
The Living Coast Discovery Center, a nonprofit zoo and aquarium on San Diego Bay in Chula Vista, raised $110,000 in net proceeds at its ninth annual "Farm to Bay" event making it the Living Coast's most successful fundraiser. The funds, which were generated through a combination of sponsorships, ticket sales, live and silent auctions, and donations, will support coastal wildlife conservation, education and sustainability programs at the Living Coast throughout the year. Approximately 400 guests attended the event
The event was made possible by the generous support of its sponsors, including this year's presenting sponsors, Marine Group Boat Works LLC and Seven Mile Casino, as well as the Port of San Diego, UTC Aerospace Systems–Aerostructures, City of Chula Vista Clean Team, Cox Communications Inc., Mission Federal Credit Union, SDG&E, Baldwin & Sons, Loews Coronado Bay Resort, Republic Services Inc., Sprouts Farmers Market – Chula Vista and Eastlake, Wells Fargo, Jim Biddle, City Link Foundation, General Dynamics NASSCO, Hoffman Hanono Insurance Services, The Lewis Group, MA Engineers, Miller Hull, Southwestern College and The San Diego Foundation. Media partners for the event included San Diego Magazine, Edible San Diego, San Diego Beverage Times, KSDY Channel 50 and Sunny 98.1 FM.Visit thelivingcoast.org.
• • •
The San Diego Women's Foundation and San Diego Social Venture Partners recently announced $50,000 in grants for two local nonprofits working to support Early Childhood Education in San Diego County.
The American Academy of Pediatrics and Traveling Stories will each receive $25,000 to support their mission and provide general operation support. Members of SDWF and SDSVP worked together to select the grant recipients.
Sierra Visher Kroha, executive director of San Diego Social Venture Partners said: "Their work is especially critical since we know that 48 percent of all third-graders in San Diego County are below grade level in reading, which is a gap these organizations are working to close." Visit sdwomensfoundation.org.
Send Kudos/Giving items to
sglidden@sdbj.com.