BIOTECH: ORAL DRUG REPLACES SHOT, AIMS FOR GREATER EFFICACY
IPO Puts Crinetics In Position to Compete
Monday, September 3, 2018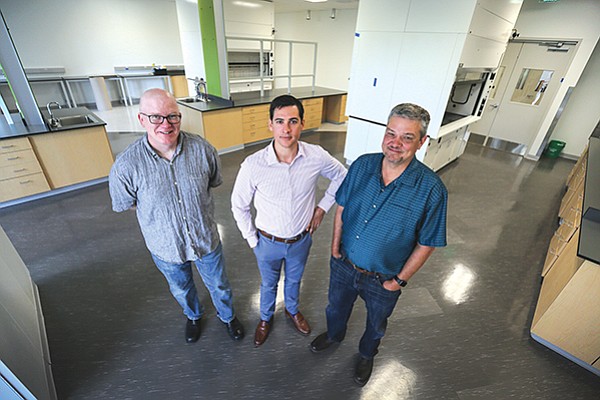 Crinetics Pharmaceuticals Inc.
CEO: Scott Struthers
No. of employees: 38
Year Founded: 2008
Stock symbol: CRNX on Nasdaq
Company Description: Crinetics is working on drugs for endocrine-related cancers and endocrine disorders

San Diego — After early years operating on a shoestring budget, Crinetics Pharmaceuticals is flush with cash to pursue ambitious drug development plans.

Crinetics in July raised $102 million through an initial public offering, 27.5 percent more than expected. Just four months earlier Crinetics took in $63.5 million in a Series B financing round.
"It gives us a very strong balance sheet and the ability to take a few risks," said CEO Scott Struthers.
Endocrine Disorders
Funds are going to drugs for endocrine-related cancers and endocrine disorders, areas in which management points to its track record.
Crinetics' lead drug is targeting acromegaly, a hormonal disorder caused by a benign tumor of the pituitary gland, and can lead to complications like hypertension, diabetes and heart failure.
Removal of the tumor is the first treatment option, yet many have no choice but painful monthly injections that sometimes don't work. Crinetics' drug, CRN00808, is a pill taken once a day.
"If all we do is make a once daily oral replacement we think that's a big help for patients. But we're also trying to improve the efficacy," said Struthers.
The Competition
CRN00808 is gearing up for a mid-stage clinical trial, or Phase 2 to be specific. But competition is afoot. Massachusetts-based Chiasma's pill for acromegaly was rejected by the U.S. Food and Drug Administration in 2016 but is in a new Phase 3 trial.
J.P. Morgan analyst Jessica Fye estimated CRN00808, if approved, would capture about 75 percent of the market for oral alternatives treating acromegaly.
The share could be even greater given the drug's safety profile and competitor hurdles, she said in an Aug. 13 research note.
While seeing long-term upside, Fye issued a neutral stock rating since the company won't report out significant news for a while.
Leerink analyst Joseph Schwartz issued an outperform rating in an Aug. 13 research note.
"We are especially encouraged by the experienced mgmt. team leading the programs that leverage their chemistry and biology expertise in three indications," Schwartz wrote.
The Management Team
Struthers from 1998 to 2008 was the head of endocrinology and metabolism at San Diego's Neurocrine Biosciences, playing a major part in the recently approved drug Elagolix, which treats pain stemming from the gynecological disorder endometriosis.
But Struthers envisioned a new company built on expertise in drugs targeting what are called peptide hormone receptors. It's an area Struthers gained familiarity with while earning his undergraduate at UC San Diego and Ph.D. at the Salk Institute for Biological Studies.
Prev Next