PROPERTY: COSTS, DEMAND PUSH BUILDERS TO DELIVER HIGH-END PROJECTS
Renters Find Downtown Luxuries in Chula Vista Apartments
Sunday, October 14, 2018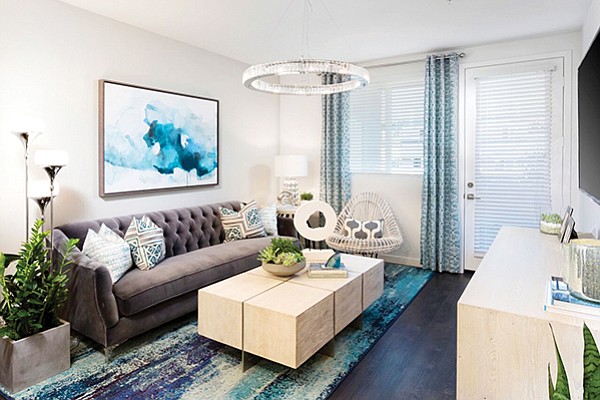 The same developer who built one of downtown San Diego's tonier apartment towers is bringing many of the same amenities to a South County project that acknowledges what some brokers said is the maturing of the area's residential market.
Trammell Crow Residential in July finished what it billed as a "luxury apartment experience" with its Alexan Millenia at 1660 Metro Ave., in the Otay Mesa portion of eastern Chula Vista.
Among its other projects, Trammell Crow in late 2017 completed the 19-story, glass-enclosed Alexan ALX apartment tower in downtown San Diego. The company declined to give construction costs for either project.
With 313 apartments at 14th and K streets, Alexan ALX set the tone for other high-end downtown projects.
Becoming the Standard
Alexan Millenia with 309 apartments and townhomes is the type of development likely to become the standard in South County and elsewhere as developers turn more and more to high-end projects to cover the rising costs of land and construction materials.
"By definition, you really have to build the really nice stuff with all the amenities because you have to get the rents high enough to make it work," said Kevin Mulhern, a CBRE senior vice president specializing in South County property. "The run-up in construction costs in the last 24 months has been unlike anything that we've seen before."
Spread over 17 buildings, the complex has 294 apartment flats and 15 townhomes, 12 of which are live-work units with ground floor work space to run a small business.
Rents range from $1,985 to $3,850 with apartments and townhomes ranging from 670 square feet to 2,262 square feet.
At the downtown Alexan ALX, monthly rents range from $2,015 to $12,655 with apartments ranging from 520 square feet to a 2,228 square-foot penthouse with sweeping views of San Diego Bay and downtown.
Designed by Architecture Design Collaborative of Laguna Hills and built by Maple Construction — an affiliate of Trammel Crow Residential — the Alexan Millenia complex includes a 2,756 square-foot lounge and a community kitchen that has seven televisions, a 2,523 square-foot fitness studio and children's entertainment suite, a pet spa, a 3,700 square-foot dog park, a 153 square foot "bike kitchen" where residents can repair bicycles, and 111 Amazon parcel lockers.
A pool area has two 70-inch outdoor televisions and a double-sided fireplace.
There are also two large conference areas for meetings or for students to use as a quiet place to study.
The conference rooms include an alcove which can be used for presentations with a television that can be plugged into a laptop to function as a monitor.
The apartments come in two palettes, one brown with shaker-style cabinets and white marbled quartz countertops and the other have brown with European style cabinets and white quartz countertops.
Pocket parks are scattered throughout the project, which is adjacent to Stylus Park.
Jason Ballow, Trammell Crow Residential vice president of development, said the company was drawn to South County in part because of other projects already in place in the Millenia community and plans for the future development.
'Great Retail'
Already in place across the street from Alexan Millenia is the Otay Ranch shopping mall and the Millenia Commons center of shops and restaurants is slated to open later this year.
"The Millenia master plan really appealed to us with its walkability to restaurants and great retail as well as the future uses such as hotel and office coming into the community," Ballow said.
"Alexan Millenia is also close to attractions such as Mattress Firm Amphitheatre as well as Otay Valley Regional Park. It lends itself to the active lifestyle that our prospective residents enjoy."
As a community, Millenia's master plan calls for up to 3,000 multifamily residence, 2 million square feet of office space, 1.5 million square feet of retail, civic and mixed-use projects, urban parks, tree-lined promenades, bikeways and plazas.
Adding Walkability
"There's definitely a walkability that we're not used to seeing in the suburbs," CBRE's Mulhern said, adding that the area "has become a really desirable area."
In looking at Chua Vista as a submarket, there's really two different cities — one east of Interstate 805 and the other west of the freeway.
West is old Chula Vista.
"We're just now starting to see some infill development in that part of town," Mulhern said.
Most new development has been east of the freeway, until recently in the Eastlake area.
"That's still the one area in the whole county, Otay Ranch and Eastlake, where you have big tracts of vacant land," Mulhern said.
Since apartments became available , nearly 60 have been leased.
"That speaks very well of the demand. That's a really strong market," Mulhern said.