TECH: MILITARY IS MAJOR CUSTOMER FOR SOFTWARE, HARDWARE
Co.'s Radio Technology Keeps Lines of Communication Open
Thursday, October 11, 2018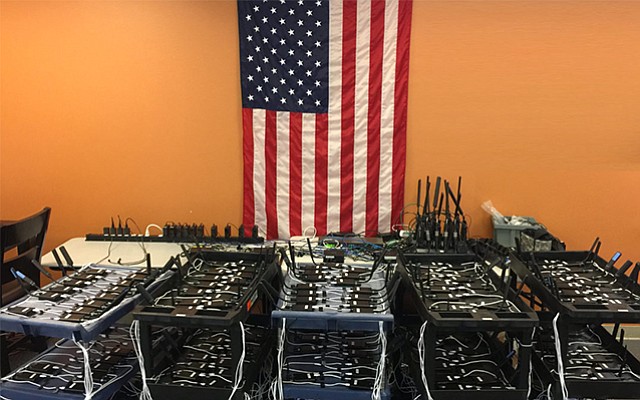 Making radios that successfully connect on the battlefield is a real-world challenge. When soldiers have to go into cities — or tunnels — radio communication gets even more difficult.
TRELLISWARE TECHNOLOGIES INC.
CEO: Metin Bayram
Revenue: Undisclosed
No. of local employees: About 150
Investors: Company founders and other undisclosed investors
Headquarters: Rancho Bernardo
Year founded: 2000
Company description: Developer of radio technology for the military and first responders
TrellisWare Technologies Inc. seems to be up to the challenge.
The Rancho Bernardo business expects the U.S. government to take delivery of 200,000 radios incorporating its technology during the next five to 10 years, said Matt Fallows, a TrellisWare vice president.
The business builds hardware, writes software and licenses its technology for other tech companies to use.
Signs of Growth?
Privately held TrellisWare doesn't disclose revenue, but other signs point to growth. Now at more than 150 employees, the company is aiming to be at 200 employees by spring. TrellisWare has people sharing cramped offices and plans to move to a bigger space in November. To land engineers who might be getting offers from bigger Silicon Valley companies, the new office will have a lot more amenities.
One of TrellisWare's most important customers is the U.S. Special Operations Command. Representatives of the Pentagon's special forces are "very frank" and "offer lots of good feedback" on products, said Fallows. A bonus of working with the command, he said, is that it will accept technology that is not quite ready — say, 80 percent — and work with a vendor like TrellisWare to make it 100 percent.
The U.S. Army is sold on TrellisWare: it has made the company's TSM waveform a requirement for its radios. The term "waveform" is common when talking about military communications. At its simplest, it is the software that runs software-defined radios — similar to software that runs wireless smartphones. TrellisWare calls its waveform TSM, and several other radio-builders use TSM in their products.
'A Pretty Big Win'
The Army is a big part of the TrellisWare story. Under a three-year deal struck in late 2016, TrellisWare, the Army, Rockwell Collins and Thales are developing a next-generation Soldier Radio Waveform. Fallows called it "a pretty big win for us."
Soldier Radio Waveform or SRW is narrowband, meaning that it is efficient enough to use a small piece of radio spectrum.
Fallows — who comes to his business-development and customer-support job armed with a master's degree in electrical engineering — said that to work properly, a system has to scale.
Prev Next