S.D. Driver Data Startup Gets $2 Million In Local Funding
Tuesday, October 2, 2018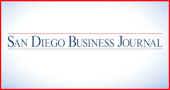 Tourmaline Labs, a San Diego-based software company, closed on $2 million in financing, the company announced Oct. 2.
The round was led by ClearVision Equity Partners, which provided $500,000, and Tech Coast Angels, which invested $1.5 million directly and through its Angel Capital Entrepreneurial (ACE) Fund.
Tourmaline collects data from drivers' cell phones, and uses artificial intelligence to gain insight on driver behavior for large fleets. The company plans to use the additional funding to build out its sales and account management teams, and invest in its technology.
Tech Coast Angels President Dean Rosenberg and Investor Nickolas Phillips led the organization's investment.
"The AI technology is proven and the company already had a strong recurring revenue model in place," Rosenberg said in a release. "In addition to the technology, we were impressed with the management team and the results that they have already achieved."
Last year, Tourmaline raised $1 million in seed funding from ClearVision Equity Partners and named Marc Brungger as CEO. The company was founded in 2015 by Sven Beerweiler, who manages business development for Tourmaline, and Chief Technology Officer Lukas Kuhn.