TECH: BULK OF FUNDS STEM FROM ICO; CO. ISSUES UTILITY TOKENS
Network Smooths Way for Tracking, Trading
Wednesday, November 28, 2018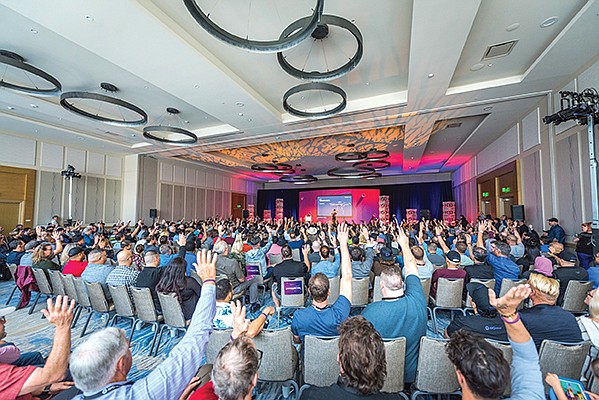 Conference-goers streamed into the back of the conference room at the InterContinental San Diego. Decked out in branded T-shirts, socks and hats, they watched as XYO Network's founders stood on the stage, lit up in pink and yellow.
The San Diego-based startup was created in 2012 to sell Bluetooth beacons that could be attached to items to track them, such as a set of often-lost car keys. Since then, the company has shifted its focus to blockchain as a means of tracking items, by keeping a record of communications among connected devices.
XYO Network
CEO: Arie Trouw
Revenue: $1.03M in 2017; $3.68M in 2016
No. of local employees: 70
Headquarters: Downtown San Diego
Year founded: 2012
Company description: XYO Network manufactures Bluetooth devices that can be attached to objects to track them. The company plans to see more revenue from enterprise software to help companies verify the location of packages and other objects.
For example, your smart doorbell could confirm that a package had arrived at your house.
"We focus on location certainty: backing location data and where something has been," said co-founder and head of marketing Scott Scheper. "If item A was at someone's doorstep, there are 17 other devices that cryptographically signed and confirmed it's there."
Pay for Certainty
Co-founder and CEO Arie Trouw said he sees the company as an enterprise software play, with use cases in shipping and food safety.

"That's the customer right now that's going to be the most willing to pay for certainty," he said.
He hopes to see more companies adopt XYO's system, and they could then develop and license out software for those uses.
"We have a lot of XYO tokens in sale," he said. "As that asset grows in value, that grows for us as well."
The company hosted the three-day conference in early November to launch this new network. It also announced new partnerships, including work with RE/MAX Mexico and the FedEx Institute of Technology.
Of the 700 attendees, many were stockholders, coin-holders, or cryptocurrency enthusiasts. Some flew in from Seattle; others traveled from overseas. Some talked excitedly about "The Office" actor Ed Helms, who served as the event's emcee, while others mulled over panel discussions on the future of cryptocurrency.
Others showed up for the tokens: Shortly before the conference, the company announced it would give away 300 million utility tokens to attendees.
Getting the Word Out
Trouw said the main purpose of the tokens, and the conference, was to get the word out.
Prev Next