TECH: BULK OF FUNDS STEM FROM ICO; CO. ISSUES UTILITY TOKENS
Network Smooths Way for Tracking, Trading
Wednesday, November 28, 2018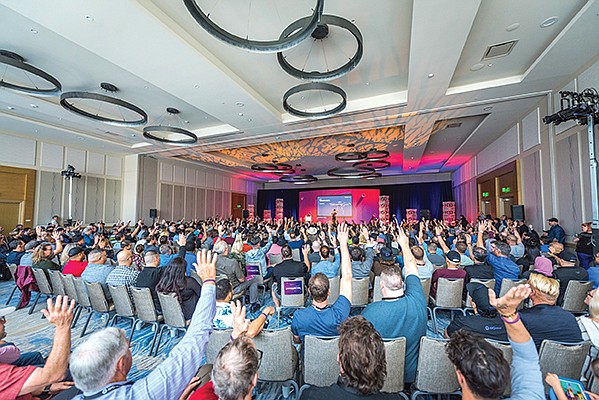 Conference-goers streamed into the back of the conference room at the InterContinental San Diego. Decked out in branded T-shirts, socks and hats, they watched as XYO Network's founders stood on the stage, lit up in pink and yellow.
The San Diego-based startup was created in 2012 to sell Bluetooth beacons that could be attached to items to track them, such as a set of often-lost car keys. Since then, the company has shifted its focus to blockchain as a means of tracking items, by keeping a record of communications among connected devices.
XYO Network
CEO: Arie Trouw
Revenue: $1.03M in 2017; $3.68M in 2016
No. of local employees: 70
Headquarters: Downtown San Diego
Year founded: 2012
Company description: XYO Network manufactures Bluetooth devices that can be attached to objects to track them. The company plans to see more revenue from enterprise software to help companies verify the location of packages and other objects.
For example, your smart doorbell could confirm that a package had arrived at your house.
"We focus on location certainty: backing location data and where something has been," said co-founder and head of marketing Scott Scheper. "If item A was at someone's doorstep, there are 17 other devices that cryptographically signed and confirmed it's there."
Pay for Certainty
Co-founder and CEO Arie Trouw said he sees the company as an enterprise software play, with use cases in shipping and food safety.

"That's the customer right now that's going to be the most willing to pay for certainty," he said.
He hopes to see more companies adopt XYO's system, and they could then develop and license out software for those uses.
"We have a lot of XYO tokens in sale," he said. "As that asset grows in value, that grows for us as well."
The company hosted the three-day conference in early November to launch this new network. It also announced new partnerships, including work with RE/MAX Mexico and the FedEx Institute of Technology.
Of the 700 attendees, many were stockholders, coin-holders, or cryptocurrency enthusiasts. Some flew in from Seattle; others traveled from overseas. Some talked excitedly about "The Office" actor Ed Helms, who served as the event's emcee, while others mulled over panel discussions on the future of cryptocurrency.
Others showed up for the tokens: Shortly before the conference, the company announced it would give away 300 million utility tokens to attendees.
Getting the Word Out
Trouw said the main purpose of the tokens, and the conference, was to get the word out.
"The biggest thing is how many people that know about XYO now than a year ago," he said. "We want to get as many people to get tokens in their hands so as our solution is rolling out, they're ready to use it."
Scheper got involved with the company last year, after reconnecting with Trouw, his former colleague. Scheper worked for Trouw at Yontoo, a subsidiary of Carlsbad advertising company Sambreel.
"We grew the company from five guys and a Ping-Pong table to 80 people within a year," Scheper said.
The company later gained notoriety for its legal battle with Facebook over its adware.

Since it made the switch to a blockchain company, XYO Network has reported big growth. The company boosted its headcount from seven people to 70 and turned a profit for the first time in its history.
"Every single day we have a new record," Scheper said. "We've turned around in seven to eight months to $22 million in working capital. We're focused on reinvesting and hiring the best people in downtown San Diego and having a ton of fun doing it."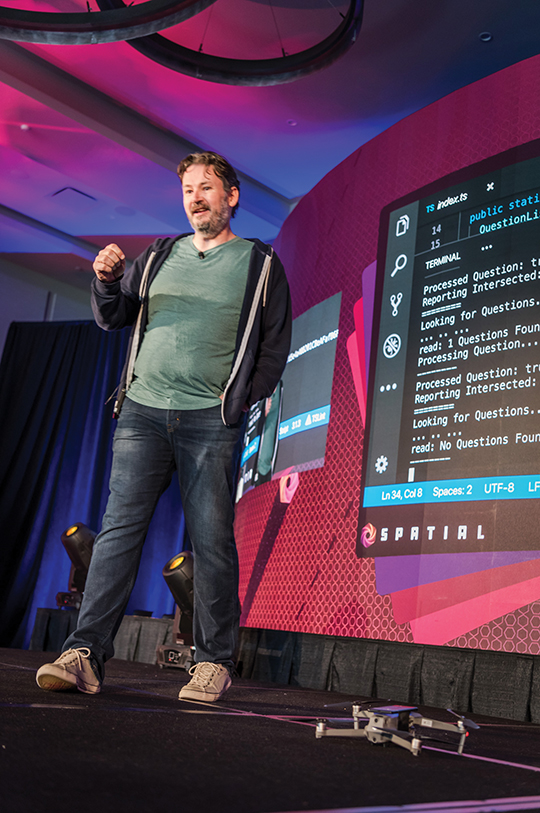 Revenue
According to its most recent filing with the Securities and Exchange Commission, the company brought in $15 million in revenue in the six months ending June 30. During the first half of 2017, the company reported revenues of $441,694.

XYO reported a net profit of $5.5 million during the six months. The prior two years, in 2017 and 2016, it incurred net losses of $4.2 million and $2.5 million.

How did a company go from years of debt to a sudden profit, renting out space in the newest seaside hotel in San Diego?
Selling Tokens
The majority of the funds came from the company's initial coin offering — or the sale of its tokens —starting March 20. XYO maintains that those tokens do not represent securities, but instead are a utility token, to allow users to access its network.
XYO reported $13.57 million in revenue in token sales for the six months ending June 30. For the retail of the devices themselves, the company reported $1.4 million in revenue.
If you live in the U.S., you can't buy the tokens directly. Users with a U.S. IP address that try buy the tokens through XYO's website are redirected to a page that says tokens can only be purchased internationally. However, the site presents users with another option: become an investor.
Unaccredited Investors
Another, smaller source of revenue for XYO is from shareholders, or unaccredited investors that have bought equity in the company. That brought in $994,905 to the company in the first half of 2018. XYO isn't publicly-traded, but users invest in it through a Reg A+ offering, a type of crowdfunding investment for companies looking to raise up to $50 million.
The company shares can't be traded or sold without a liquidity event — such as if the XYO were acquired, or went public.
Per that offering, XYO must file two semi-annual reports with the Securities and Exchange Commission. Trouw said the Reg A+ also brings credibility to the company's coin sales.
With the additional revenue, XYO also bolstered its spending. The company's general and administrative costs jumped from $885,000 in the first half of 2017 to $4.7 million in the first half of 2018, primarily due to the increased headcount. The company also increased its marketing budget significantly, up from $874,000 in the first half of 2017 to $10.13 million in 2018 – accounting for more than half of its revenue.
In an emailed statement, the company said the big marketing budget primary stemmed from an increase in advertising of the network, both in the U.S. and overseas. The company didn't provide specific costs, but in addition to the recent conference, its logo will also be appearing on racecars. The company struck a branding partnership with Joe Gibbs Racing, and brought on pro racecar driver Collete Davis as a brand ambassador within the last year.
Trouw didn't specify the cost of the conference, but said tickets, for the most part, covered the cost, "so it's not a giant money sink."
The company still has looming debt; it borrowed $3.46 million in unsecured loans from Trouw in 2015 and 2016.
'Speculating on a Network Value'
XYO may face another challenge in the future as the SEC further clarifies, and enforces, regulations around cryptocurrencies. Ethereum, the second-largest cryptocurrency behind Bitcoin, dropped to $140 on Nov. 19. It had been trading over $300 at the same time last year, and peaked above $1,000 in early 2018. XYO's tokens run on the Ethereum blockchain.
"Because of speculation in market, you're seeing what you're seeing right now," said Thomas Carter, CEO of San Diego-based advisory firm Capital Services Group. "Ninety percent of ICOs that (were) funded aren't in existence."
The problem with a lot of these ICOs, he said, is that they are built on utility tokens, which derive their value from a network rather than a security.
"People are speculating on a network value and then realize there's not a whole lot of underlying value," he said.
The tumble came after the SEC cracked down on two startups, Airfox and Paragon, that had each raised more than $10 million through Ethereum ICOs. The SEC stated the companies did not register their ICOs with the agency, and did not qualify for an exception to the registration requirements.

Carter said the regulation changed in June, when the SEC ruled that all token offerings were securities in the U.S.
"The SEC is continuing to come down on these," he said. "There have been some recent additional actions on other offerings in the last 30 days."
With the plummet in price, Trouw said XYO had been affected, but that it still had more runway than most crypto startups.
'Much More Well-Rounded Company'
"We're very fortunate that we didn't just do a token offering … and as the price of Ethereum or bitcoin fluctuates, that runway gets pulled out from underneath you," he said.
"We've seen our holdings in crypto ebb and flow, but the fact that we have currency coming in through our Reg A+ and our hardware sales makes us a much more well-rounded company."
Even for companies that are able to defend their tokens as a utility, rather than a security, the problem is getting the needed license to transfer the money. For now, for companies and investors looking to get into crypto, Carter recommends sticking with securities.
"I would advise everyone to look at security token and not get into any other speculation because there's a lot of moving parts right now," he said. "A security token is a security, so you're going to have some value there. With anything else you're going to be subject to regulatory challenges."