PROPERTY: DEVELOPMENT CO. ENTERS WITH PLANS, EXPERIENCE
Portfolio Buy Is Ticket To Life Science Sector
Sunday, November 25, 2018
A Boston development company — Longfellow Real Estate Partners — that specializes in developing life science campuses is establishing its first West Coast presence in San Diego with the $112 million purchase of 12-buildings in Sorrento Valley.
The company plans to convert the light industrial buildings into lab space, similar to what it's done in creating a technology park in Durham, North Carolina.
LONGFELLOW REAL ESTATE PARTNERS
Managing Partners: Jamie Peschel, Adam Sichol
Revenue 2017: declined to disclose
Projected revenue 2018: declined to disclose. Headquarters: Boston
Year founded: 2009
Number of employees: 55 and growing
Company description: Longfellow Real Estate Partners is a fully integrated real estate company that acquires and develops property for life science and technology companies.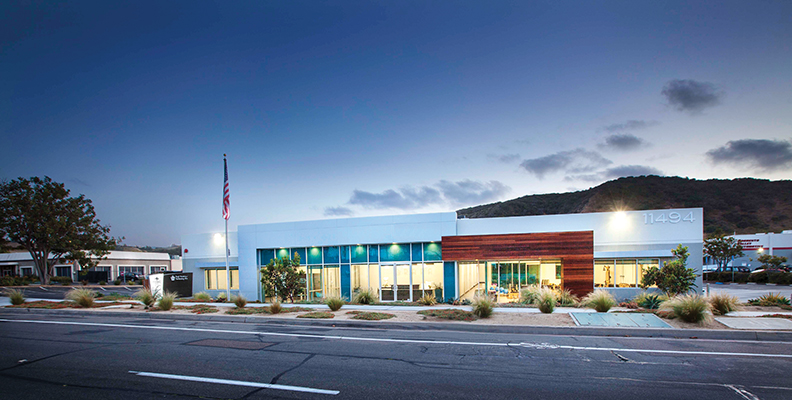 Under development by Longfellow Real Estate Partners in collaboration with Duke University and Measurement Inc., the Durham Innovation District is a 1.7 million square foot mixed-use project on a 15 acre site in downtown Durham.
Tenants include Duke Clinical Research Institute, Duke Molecular Physiology Institute, Sarah W. Stedman Nutrition and Metabolism Center, and Duke Innovation & Entrepreneurship Initiative.
"We focus on science and tech real estate," said Jessica Brock, managing director in Longfellow Real Estate Partners.
"Up to this point, it's been on the East Coast. We set our sights on the West Coast, looking at the market for the last 18 months," she said. "San Diego is a natural market. We're looking at expanding in San Francisco and San Diego right now."
Rare Opportunity
The Longfellow acquisition of the Sorrento Valley Property stands out because it is rare to have such a large number of buildings come up for sale at the same time, and because it is one of the biggest transactions in the county so far in 2018.
The other big sale of the year was the $170 million in October of 12 Carlsbad industrial and office buildings by RAF Pacifica.
Brock said that Longfellow plans to acquire an additional one to two-million square feet of California property over the next two years, focusing on San Diego and San Francisco.
"We really like Sorrento Valley, Sorrento Mesa, UTC and Torrey Pines," Brock said.
The company picked San Diego for its first West Coast venture because the city has a thriving life science community and the Sorrento Valley buildings gave it a strong entry into the market.
Lab Work
"It's really a very similar strategy to what we did to the research triangle park in North Carolina," Brock said. "We plan to convert a significant part of the property to labs as well as create a sense of place, add amenities and just upgrade the profile of the investments."
Prev Next