TRAVEL: INCUBATOR LOOKS TO HELP COS. AND AIRPORTS TAP INNOVATION
Lab Gives Startups Direct Route to Airport
Sunday, November 25, 2018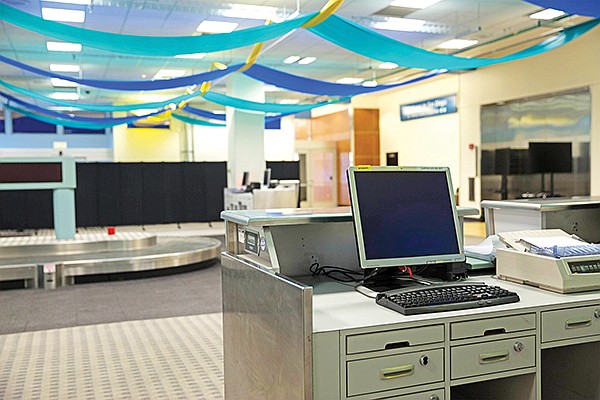 A small crowd filed in between the baggage claim and ticket desks at the San Diego International Airport. It wasn't part of the airport's annual Thanksgiving rush, but arrived instead to watch five startups deliver their pitches.
The Airport Innovation Lab hosted the companies for 16 weeks in an effort to find ways to improve air travel. The 3,500-square-foot space functions as its own miniature terminal, with a small baggage carousel, and ticket and gate counters that the startups can put to use.
The incubator first opened in 2016, thanks to a vacancy at the airport's former commuter terminal. At the time, the airport was looking for ways to improve its customer experience, said Rick Belliotti, director of innovation and small business development for the airport.
"The convergence of miracles happened. At the same time that we were thinking about the innovation lab … the aircraft got moved out so the space was freed up," he said. "We had a unique opportunity that many airports probably wouldn't have had at that time. We were able to truly create a small terminal."
Making Connections
More important than the space itself is the experience and connections the companies gain during the 16-week program. Startups are paired with mentors, and have the opportunity to work directly with the airport and its partners, gaining valuable feedback on their products and exposure to the thousands of passengers that pass through daily.
The program has already led to one success story in AtYourGate, the first startup to go through the Innovation Lab. The San Diego-based food delivery app for airports expanded to Newark Liberty International Airport, and is set to launch at three more major airports by the end of the year
"That is exactly what we wanted to see from this model — to have it expand out from our airport to multiple airports and really impact the industry," Belliotti said.
Lessons Learned
As the first graduate of the program, AtYourGate president David Henninger said it helped his company get an "in" with the industry. When he first started AtYourGate back in 2015, he pitched the idea to 25 airports.
"They all said we love it, go try it somewhere else, and come back and tell me how it goes," he said. "We realized quickly we didn't know squat about the airport. There are some very unique nuances about operating inside of an airport."
After winning a bid through the San Diego International Airport, AtYourGate was able to launch at its first site.
Prev Next