Housing Projects Targets Homeless, Low-Income
Sunday, November 25, 2018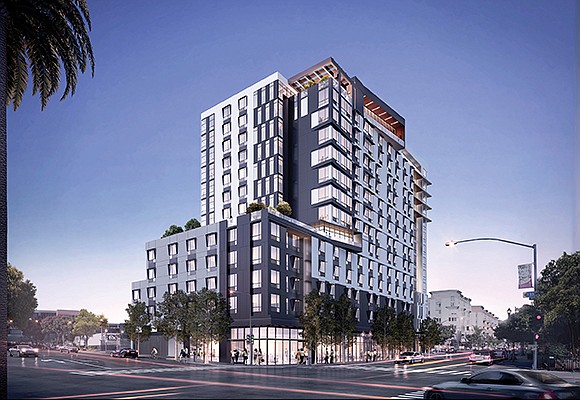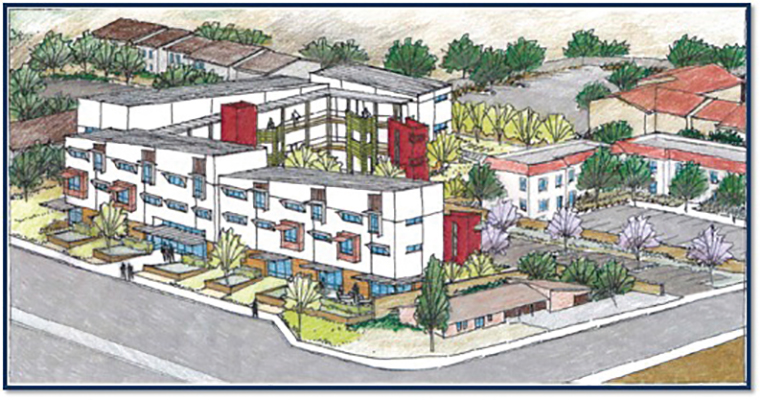 Two new affordable housing projects are in the works, including a $172 million East Village mixed-use project by Father Joe's Villages and Chelsea Investment Corp. that will have 273 apartments and a new home for the Head Start Program.
In San Ysidro, National Community Renaissance (National CORE) broke ground this month for a 50-apartment project targeting homeless seniors — San Ysidro Senior Village.
The East Village project will target low to moderate income families who were homeless or are at risk of becoming homeless.
The project at 13th Street and Broadway is part of a pledge made last year by Father Joe's Villages to add 2,000 affordable housing units to the marketplace in five years through a combination of new construction and renovation of existing motels.
"We need to do something that's audacious, that's never been done to that scale before," said Deacon Jim Vargas, president and CEO of Father Joe's Villages.
With median market rate apartment rents topping $1,800, "this kind of project is extremely critical in dealing with this (homeless) issue," he said.
Temporary shelters help, but, "At the end of the day, if there isn't a permanent residence, these individuals are going to fall back into homelessness," Vargas said.
Father Joe's Villages and Chelsea Investment in March announced plans to build a $170 million affordable housing project at 14th and Commercial streets that will have 407 apartments.
With construction expected to start in 2020 and finish in 2022, the East Village project will provide a variety of on-site social services coordinated by Father Joe's Villages.
"For the families and individuals who move into these apartments, access to the support they need right in the same building means they can maintain stability and avoid experiencing homelessness again or prevent it altogether," Vargas said.
The residential portion of the project will be in a 14-story tower and will have a combination of studio apartments and one- and two-bedroom units.
Apartments will range from 350 square feet to 750 square feet. Rents will range from $382 to $1,397.
The project includes underground tenant parking with 50 spaces, outdoor recreation spaces including picnic and barbecue areas and a rooftop deck with greenery.
There also will be a 3,000 square-foot Head Start center managed by Neighborhood House Association on the ground floor to serve residents and the surrounding community.
The Head Start program will provide free early childhood education and health services to children through the age of 5 from low-income families.
Chelsea Investments has partnered with Father Joe's Villages on several other affordable housing projects, including Paul Mirabile Center, 15th & Commercial, 16th & Market, Villa Harvey Mandel, Toussaint Teen Center, Boulevard Apartments and Village Place.
"As a family-owned and operated company, we see the need to invest in innovative housing development that will allow more of San Diego's most vulnerable families to find stability," said Jim Schmid, CEO of Chelsea Investment Corp.
Joseph Wong Design Associates is the architect on the East Village project. A general contractor has yet to be named.
The $18 million San Ysidro Senior Village project will provide housing for chronically homeless persons, including some who have been diagnosed with a serious mental illness.
On-site mental health services will be provided by the Behavioral Health Services Division of the county Health and Human Services Agency.
Other services will be provided by the San Diego Program for All-Inclusive Care for the Elderly (PACE), Father Joe's Villages, Casa Familiar and National CORE's Hope through Housing Foundation.
"This is going to offer long-term, community-based permanent supportive housing with high-quality wraparound services," said John Seymour, vice president of acquisitions and forward planning for National CORE.
"It's not just permanent supportive housing. It goes beyond that," Seymour said.
National CORE recently completed Mission Cove in Oceanside, an affordable housing project that provides housing for low-income families and seniors.
Construction is expected to be finished in 2020.