Navy Property Is Prime Space In Search of New Purpose
Thursday, November 22, 2018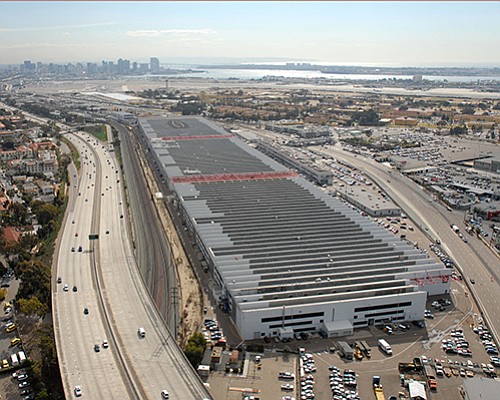 With its sawtooth roofline and its big, multipaned windows, the old Consolidated aircraft factory looks like something from a black-and-white movie. The U.S. Navy, which owns it, thinks the 48.7 acres beneath it could go to a better use. The same goes for 21.8 acres nearby holding a warehouse and parking lot.
The Navy asserts that it needs a modern facility for its modern mission, which includes cyberwarfare and cybersecurity, providing defense electronics and furnishing all the information technology needed to run the sea service.
So it is collecting ideas from private developers on how to better use the land in San Diego's Midway District known as Naval Base Point Loma Old Town Complex.
The Navy is open to commercial development on the 70.5 acre site — even retail or housing — provided that the Navy gets roughly 2 million square feet of new facilities to do its job. That new space does not necessarily have to be on the Old Town site; it can be nearby, on federal or private land. The government is even open to a land swap.
All ideas seem to be on the table. The Navy is encouraging respondents to be creative.
Ultimately, the Navy may accept a long-term lease similar to the 99-year lease signed with Manchester Financial Group at its shore facilities headquarters on 12 acres at the foot of Broadway in downtown San Diego. Manchester is building a $1.5 billion mixed-use project with several high-rise buildings including a Navy office building.
A public-private strategy in Old Town would give the Navy "something we couldn't otherwise afford," said Rear Adm. Yancey Lindsey, who oversees Navy's shore bases in six Western states. Even though the Pentagon budget is growing, "we still are challenged in the shore environment," Lindsey said.
The Navy's Old Town plan sets the stage for major redevelopment of a gritty section of Point Loma, just as the city is getting ready to redevelop other parts of the neighborhood. The city wants to increase residential development in the Midway District and break up "superblocks" with new streets. Efforts to redevelop the Valley View Casino Center and the former Midway post office are under way.
"The synergy between their effort and our effort is ideal," said Garth Nagel, project lead for the Naval Facilities Engineering Command.
As with anything, there are pros and cons to the opportunity. The sprawling site is a prime, urban location near rail and trolley systems, two freeways and a major airport. Then again, it is a retired factory. It contains hazardous materials such as lead paint, asbestos and residue from industrial processes such as metal plating. In other ways, the land is unencumbered. The 1940s-era buildings do not have historic status, the land contains no archeological sites (it is built on sediment dredged from San Diego Bay) and the property sits outside the Coastal Zone (with no need for California Coastal Commission review).
Prev Next