MEDICINE: CO. FOLLOWING OWN PATH ON INVESTORS, VALUATION
Arthritis Drug Is Big Test for Samumed
Sunday, November 18, 2018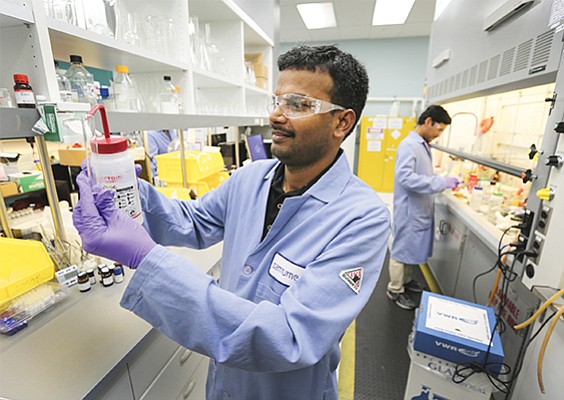 Samumed emerged two years ago with a mission of regenerating hair, skin and joints, valued at a head-turning $12 billion. Much of that valuation rests on an arthritis program with recently released clinical data.
SAMUMED LLC
CEO: Osman Kibar
Founded: 2008
Funding: Raised more than $650 million, including a $438 million round this summer
Headquarters: La Jolla
Description: Samumed is developing medicines it says have the potential to regenerate damaged tissue. The platform is based on modulating the Wnt pathway, which plays a crucial role in tissue health, from repair to regeneration.
The San Diego company's drug, SM04690, intends to herald a new day in osteoarthritis by re-growing knee cartilage. Phase 2b results showed that SM04690 injections into the knee reduced pain and improved function, in half of the four doses tested.
The study gave the company the confidence to move into a final-stage trial, or phase 3, set to begin next year. If all goes as planned in phase 3 — emphasis on if — Samumed could ask for U.S. Food and Drug Administration approval. A green light would seemingly go a long way toward realizing the $12 billion valuation, questioned by some biotech watchers.
Filling in Missing Data Gaps
"It (phase 2b) basically filled in the missing data gaps that we felt were needed prior to going into pivotal studies," said Erich Horsley, chief business officer of Samumed.
But the phase 2b trial — which lasted six months — failed to meet one primary expectation. SM04690 patients didn't appear to experience an increase in medial joint space width, a measure indicating the amount of cartilage. That said, Samumed achieved this joint goal in a yearlong phase 2a study.
Horsley said six months wasn't enough time to see a difference. It's all about the one-year mark, the company says.
In the six-month study the placebo and treatment groups reported similar joint width. Horsley said the gap between the groups would have been greater, but the placebo population's knee condition didn't deteriorate, atypical in osteoarthritis studies.
"We think for this particular study, it just isn't long enough, the patient population is different, and all this can be addressed in a properly designed pivotal trial, which we are planning for now," Horsley said.
Samumed largely held phase 2b to demonstrate efficacy in pain and function to supplement phase 2a data, he added.
An approved therapy would be a game-changer in osteoarthritis, in which cartilage wears away, causing painful movements. More than 20 million Americans suffer from the condition. They have few options — namely pain pills, knee replacement surgery or physical therapy.
Other drugs in Samumed's pipeline are taking aim at cancers, hair loss, the skin disorder psoriasis, Alzheimer's disease and more. The company has yet to put a drug on the market.
Privately held Samumed has raised more than $650 million, including a $438 million round this summer. The company's $12 billion valuation makes it one of the most highly valued health care startups in the U.S.
Too High of a Valuation?
But since the company's emergence some biotech players have questioned the high valuation. Two were still skeptical even in light of the latest data.
Jay Lichter, managing director of Avalon Ventures, said the valuation should be put in the context of other biotechs. He pointed to Carlsbad's Ionis Pharmaceuticals, which has a $7 billion market cap, grounded in $508 million in 2017 revenue, notable drugs on the market, an extensive pipeline and a nearly 30-year history.

"If you do an analysis of comp companies, I think what you're going to find is that (Samumed) is such an outlier," Lichter said.  
Samumed, Lichter added, has a dearth of board members and investors with life sciences experience.
The Funding
The $438 million financing round this summer included Singapore-based Vickers Venture Partners, along with undisclosed family offices, wealthy individuals and sovereign funds. Vickers also took part in Samumed's prior round, as did IKEA's private venture firm.
A furniture company investing in biotech raised eyebrows.
But Finian Tan, the chairman at Vickers, told the San Diego Business Journal in 2016 that Samumed's platform could be a breakthrough of "huge proportions." Tan was an early investor in Baidu, known as the "Google of China," and he has sat on the boards of Life Sciences Investment and SingHealth, the biggest health care group in Singapore.
The platform is based on modulating the Wnt pathway, which plays a crucial role in tissue health, from repair to regeneration.
David Crean said overall Samumed lacks top-tier investors, likely scared away by such a steep valuation. Crean is the managing director of Objective Capital Partners, and he's also on the board of Histogen, itself developing a hair-loss treatment.

Nontraditional Investors
"I don't think they'll find they'll be able to go up to Silicon Valley and raise money. And they haven't. So what have they done? They've gone to let's call it nontraditional investors," Crean said.
Samumed's Horsley weighed in on the sentiment in an email.
"We believe that Samumed has an investor base that includes similar limited partners to those invested in many leading biotech-focused venture capital and private equity funds. In our case, however, these investors chose to invest directly in Samumed, guided in part by extensive technical and commercial diligence from external advisors," Horsley said.

Outside of osteoarthritis, Samumed's next big driver appears to be SM04554, which recently began a phase 3 trial for a common form of hair loss called androgenetic alopecia.
Earlier trials of Samumed's drug showed promise in re-growing bald men's hair.
San Diego-based Histogen and the Japanese company Shiseido also have hair-loss drugs in phase 3 trials. Samumed's drug is a non-greasy topical, a differentiating factor in Horsley's view.

"People will still always prefer a small-molecule drug that you can apply easily to an injection," he said.
Tackling Some Commercialization
Samumed has 170 employees. Horsley said the company plans to be a force in San Diego, intending to self-commercialize some of its drugs in core markets like North America.
"We believe we have the capital and ability to launch at least several of our programs ourselves," he said. "We're aware it may not be realistic because of the depth of our pipeline to launch everything ourselves all over the world. At the same time, it is realistic to launch some core products in some of our core territories."
IPO in the Future?
Underscoring big plans: Samumed this year has spent $240,000 on federal lobbying, tied for the second most among San Diego life sciences firms. That's noteworthy considering the company doesn't have a drug on the market.
Those funds largely went toward osteoarthritis education, as the company surmised that elected officials, their staff and patient advocacy groups are focused on other arthritic conditions.
Horsley said an initial public offering is likely on tap in three to five years. It's undecided if the company will pursue another funding round before then.