MEDICINE: CO. FOLLOWING OWN PATH ON INVESTORS, VALUATION
Arthritis Drug Is Big Test for Samumed
Sunday, November 18, 2018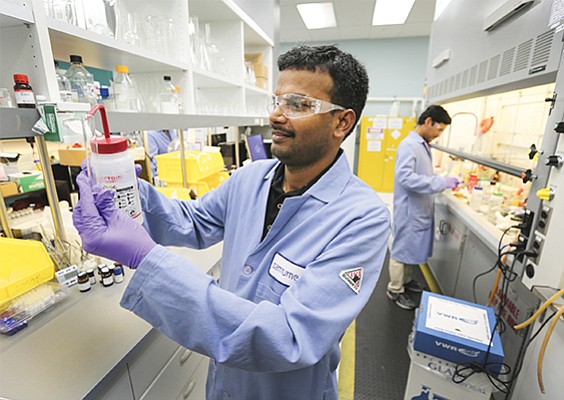 Samumed emerged two years ago with a mission of regenerating hair, skin and joints, valued at a head-turning $12 billion. Much of that valuation rests on an arthritis program with recently released clinical data.
SAMUMED LLC
CEO: Osman Kibar
Founded: 2008
Funding: Raised more than $650 million, including a $438 million round this summer
Headquarters: La Jolla
Description: Samumed is developing medicines it says have the potential to regenerate damaged tissue. The platform is based on modulating the Wnt pathway, which plays a crucial role in tissue health, from repair to regeneration.
The San Diego company's drug, SM04690, intends to herald a new day in osteoarthritis by re-growing knee cartilage. Phase 2b results showed that SM04690 injections into the knee reduced pain and improved function, in half of the four doses tested.
The study gave the company the confidence to move into a final-stage trial, or phase 3, set to begin next year. If all goes as planned in phase 3 — emphasis on if — Samumed could ask for U.S. Food and Drug Administration approval. A green light would seemingly go a long way toward realizing the $12 billion valuation, questioned by some biotech watchers.
Filling in Missing Data Gaps
"It (phase 2b) basically filled in the missing data gaps that we felt were needed prior to going into pivotal studies," said Erich Horsley, chief business officer of Samumed.
But the phase 2b trial — which lasted six months — failed to meet one primary expectation. SM04690 patients didn't appear to experience an increase in medial joint space width, a measure indicating the amount of cartilage. That said, Samumed achieved this joint goal in a yearlong phase 2a study.
Horsley said six months wasn't enough time to see a difference. It's all about the one-year mark, the company says.
In the six-month study the placebo and treatment groups reported similar joint width. Horsley said the gap between the groups would have been greater, but the placebo population's knee condition didn't deteriorate, atypical in osteoarthritis studies.
"We think for this particular study, it just isn't long enough, the patient population is different, and all this can be addressed in a properly designed pivotal trial, which we are planning for now," Horsley said.
Samumed largely held phase 2b to demonstrate efficacy in pain and function to supplement phase 2a data, he added.
An approved therapy would be a game-changer in osteoarthritis, in which cartilage wears away, causing painful movements. More than 20 million Americans suffer from the condition. They have few options — namely pain pills, knee replacement surgery or physical therapy.
Prev Next