Executive Q & A: For Classy, First Billion Is Just a Good Start
Monday, November 12, 2018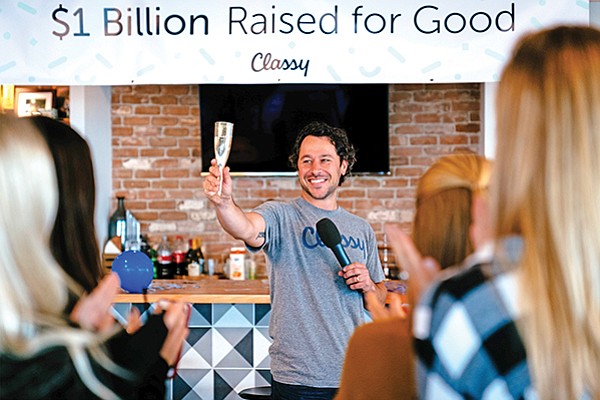 Classy, a San Diego-based fundraising platform for nonprofits, recently crossed the $1 billion mark in funds raised — a major milestone for the company. Classy first launched in 2011, and its growth has since increased in pace. Now, the company is preparing for its largest giving season yet, with the holidays quickly approaching.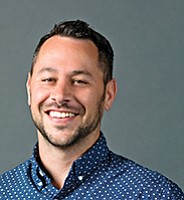 CLASSY
CEO: Scot Chisholm
Amount of funding raised: $53 million in 2018
No. of local employees: 230
Investors: Mithril Capital Management, JMI Equity, Salesforce Ventures and Bullpen Capital
Headquarters: Downtown San Diego
Year founded: 2006
Company description: Classy is a software company that provides fundraising platforms for 501c3 nonprofits. Classy charges clients licensing fees and transaction fees, which vary depending on the product.
CEO and co-founder Scot Chisholm shared how Classy reached its first billion, and what he hopes to accomplish by the next billion. This interview has been edited and condensed for clarity.
Q: Did you ever think you would hit $1 billion?
A: It was supposed to be our 30-year stretch goal. We thought it was possible, but we thought it would take longer. The startup journey is so many ups and downs, and learning along the way. We've been able to use those learnings in a useful way to make the product better, strengthen the company the culture, all of those things.
We're so happy that it has happened much sooner than we anticipated, and most of it happened in the last year. The future looks bright.
Q: What trends do you see in giving?
A: About $410 billion is donated to 501c3s alone. Of that, approximately $280 billion is donated by individuals. Nine percent is online; the rest is done in check and cash, still.
When we started, it was 3 to 4 percent online. The online fundraising market is growing by double digits every year. It's an emerging market. The mobile piece of online is growing even more rapidly.
One trend that we noted last year was this concept of donating to a donor-advised fund versus donating directly to a charity. A donor-advised fund is a holding company in a way for you to make your charitable gift so you can get the tax benefit up front and then assign where the money goes later. Where a successful person might have started a private foundation with their name on it, instead they're donating money to a donor advised fund.
Private foundations have a rule that 5 percent of their assets need to be donated every single year. Donor-advised funds do not have that rule. That has (nonprofits) somewhat worried. It's something to keep an eye on, but is not affecting the numbers from what we can tell.
Q: How did you start Classy?
A: We were trying to raise money for the American Cancer Society here in San Diego, because my mom had cancer growing up, and all of my friends had been affected by the disease in pretty profound ways.
We were trying to figure out how to get involved. There was really only one big race, the Relay for Life, which had you walking around a track for 24 hours. That really wasn't our thing at 24 years old. Our idea was to host a pub crawl with our friends and go off Garnet Street and collect cash at the door. When we were trying to figure out what the name for the pub crawl would be, the movie "Anchorman" happened to be on in our apartment. We named it the Stay Classy Pub Crawl. About 75 people came to the pub crawl and we raised $1,000.
I was excited about what we had done. We called the American Cancer Society, and found out we had to go to a sanctioned event, Relay for Life, to donate it, which was exactly the event we were trying to avoid.
The whole experience was long and kind of frustrating. Our first idea for the company at the time wasn't about technology. It was about bringing young people into the fold and making it easy and fun for them to give.
Q: How did you become a software platform?
A: Our biggest event was a 5,000-person music festival. At that point, we realized we had outgrown our system of ticketing and donations, so we hired a local developer to build what would become the idea for Classy's technology. It allowed you to buy tickets for the event, create a personal fundraising page on social media and raise money from family and friends. The charities we benefited through the events were saying, "this is awesome, can we use it for our own campaigns and events?" That's where the lightbulb went on for us.
We naively and ambitiously threw our hat in the ring. We quit our jobs and went through an incubator in town called the Connect Springboard program. We made the biggest startup pivot of all time from a charity pub crawl to a SaaS company, and we came out alive.
Q: What do you plan to do with the next billion?
A: What we'll be doing with the next billion raised on our platform is to try to drive more recurring givers on behalf of our customers. What we found through our own data is (that repeat givers are) worth a lot more to them.
It's astronomical. A recurring giver is worth 440 percent more to an organization than a one-time giver, even though the gift size is about a third, just because they commit.
In the offline world, typically the big donors get attention. Online, you have the ability to nurture any-sized donor in pretty much the same way, if you have the right tools.
Q: What do you think of other platforms, such as Facebook, launching their own tools?
A: We see it as largely synergetic. Facebook is a large channel of ours. What we normally see is an organization using Classy and Facebook will promote its campaign within Facebook, but will collect donations off of Facebook.
The disconnect with Facebook's foray into this, is that none of the donor data comes back to the organization. That's a big deal, because they can't nurture that person and turn them into a repeat giver. It's kind of a black box.
We view it as expanding the pie. We don't view it as cannibalizing existing donors too much. It's bringing new people into the fold
Q: Have changes to deductions under the Tax Cuts and Jobs Act affected your business, or your clients?
A: It's a little bit of a wait-and-see moment, because most giving happens at the end of the year. About a third of all giving happens in December alone, and the majority of that happens in the last two weeks of the year.
It has not had an effect on our overall donations across the platform, that we can tell, but we're watching it and our clients are watching it as we come into peak giving season.