TECH: CO. DOESN'T SEE GOOD FIT WITH MOST LIKELY BUYER
Mitek Plan Seen as 'Poison Pill' to Deter Acquisition
Sunday, November 4, 2018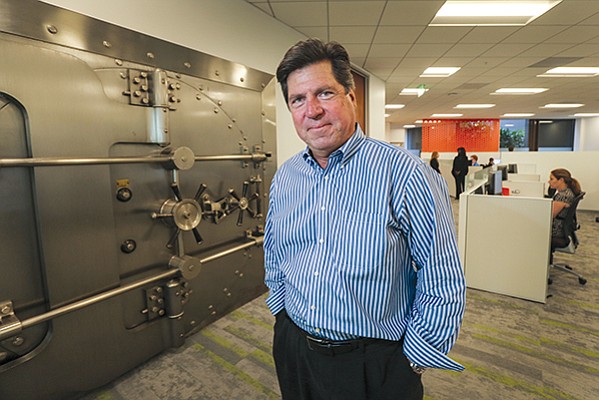 MITEK SYSTEMS INC
CEO: Jim DeBello
Revenue: $45.4 million in 2017
Net income: $14.1 million in 2017
No. of local employees: 130
Headquarters: Downtown San Diego
Year founded: 1986
Stock symbol and exchange: MITK on Nasdaq
Company Description: Mitek is a software company best known for its mobile check deposit and identity verification products.
Mitek Systems Inc. adopted a shareholder rights plan that could make a company takeover a tough pill to swallow.
The San Diego-based financial technology company adopted the plan in late October to protect the company's tax assets; it has nearly $60 million in federal and state net operating loss carry forwards that could be jeopardized with a change in ownership.
According to a news release, Mitek's board approved the plan after considering the value of these tax assets, "and the risk of an ownership change following recent trading activity in the company's shares."
Analysts, however, saw it as a move by Mitek to ward off an unwanted acquisition.
In early October, Reuters reported Mitek rejected a takeover approach from Naples, Florida-based ASG Technologies Group, backed by activist fund Elliot Management Corp. According to the anonymously-sourced report, ASG approached Mitek over the summer, with a written offer "valuing Mitek at what it considered a significant premium."
When asked to comment, an ASG spokesperson wrote in an email that the company "does not comment on market rumors or speculation."
After Mitek reportedly rejected the company's first offer, ASG Technologies made a subsequent offer to Mitek on Oct. 31 to acquire the company for $425 million, or $10 per share. Mitek's stock jumped from $8.03 to $9.31 with the news.
"As an indication of our conviction in the proposal, Elliott has made a substantial investment in the common stock and economic equivalents of the company and is now one of Mitek's largest investors," ASG Technologies wrote in the offer letter. "We are also aware that several of your largest shareholders are supportive of an exploration of a sale and have communicated this directly to the board."
Mitek scheduled an earnings call for mid-afternoon Nov. 1, after this story went to press.
Mark Schappel, an equity research analyst with The Benchmark Co. LLC, said the shareholder rights plan indicated Mitek had "no interest" in being acquired by ASG.
"… we believe the plan is essentially a poison pill aimed at fending off a takeover by ASG Technologies, which is backed by activist hedge fund Elliott Management," Schappel wrote in a research note.
He saw two explanations behind the lack of interest: First, a belief from the company's management and board that Mitek is pursuing the right strategy, and second, that "the two firms are vastly different culturally, operationally and technologically."
While Mitek sees itself as a growth-driven innovator, Schappel wrote, ASG is known as a consolidator.
The Strategy
The so-called "poison pill" strategy effectively makes it more expensive for a potential acquirer to take over a company. Once the buyer acquires a certain amount of a company's stock, it triggers the plan, giving other shareholders the ability to purchase additional shares at a discount. This strategy dilutes the buyer, forcing them to negotiate with the company's board of directors, or give up.
In most cases, the hope is that it would never be triggered.
For Mitek, the measure would go into effect if a five-percent shareholder increases its position by more than 50 percent in a three-year period, according to an Oct. 23 filing with the Securities and Exchange Commission. The plan is up for a vote at the company's annual shareholder meeting in 2019. If approved, the plan will remain in effect until Oct. 22, 2021.
Mitek's stock dipped nearly five percent after it announced the plan adoption. It was valued at $7.80 on Oct. 26, three days after the announcement. Mitek declined to further elaborate on the filing.
C-Suite Search
The company is also in the process of seeking executives to fill its top two posts. Mitek's CEO, Jim DeBello, will leave the company on Jan. 1, and Chief Financial Officer Jeff Davison will leave the company next month to take a job in Montana, closer to his home.

Though Mitek hasn't provided a timeframe for bringing on the new hires, Schappel noted the search process appears to be progressing well, and that the board interviewed a few candidates for each position.
"… we wouldn't be surprised if the new executives are in place by year-end," he wrote.