GAMING: GEAR, GAMES AND PLAYER PARTICIPATION CREATE SECTOR WORTH BILLIONS
Gamer Momentum Puts E-Sports in Big Leagues
Wednesday, May 30, 2018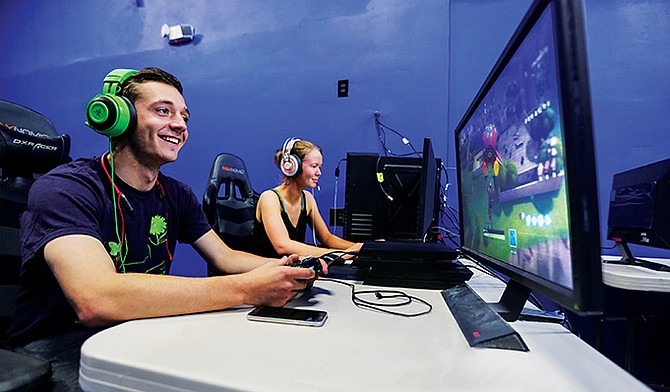 San Diego — Turtle Beach Corp., the San Diego company that provides gaming headsets and audio accessories for video game consoles, is experiencing explosive growth.
The company is reporting a 185 percent growth in its first quarter this year with $40.5 million, compared with last year's $14.4 million.
Its growth is a result of a boom in e-sports, or the professional competitive online gaming industry.
Several market research firms are forecasting e-sports to reach revenues in the billions as mainstream audiences, sponsorships, advertising, media rights and content licenses are drawn in.
Newzoo, a market intelligence provider headquartered in Amsterdam, reports the global e-sports economy will continue its growth pattern, reaching $905.6 million this year. By 2020, Newzoo is estimating the industry will reach $1.4 billion.
While San Diego may not be a driver in the rise of e-sports it definitely has its players.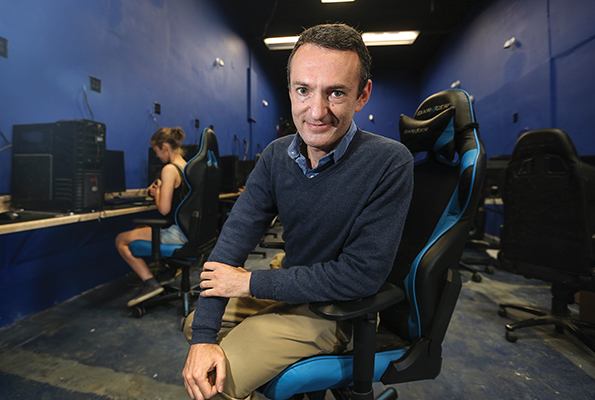 GameSync
The walls are painted a deep blue. Running along the walls are tables and desks loaded with PC towers, screens, keyboards and oversized mouse pads.
At the front counter are assorted items for sale: Snickers, Butterfingers, Corn Nuts, beef jerky and sodas — the snacks of gamers.
Agragati Siegel is the owner of GameSync, one of only a few gaming centers in the county. It just had a soft opening at its new location a few months ago. There's work still being done on the inside. But the gamers are there.
Siegel will tell you he's not surprised by the e-sports industry growth — because he's seen it. From last year, when he closed the doors on his old gaming center location, to today, he's experienced a 300 percent to 400 percent growth.
"Between 2012 and 2017, it was probably 20 to 30 percent growth, year-over-year," Siegel said. "But then from there, to this point, it just really took off."
Siegel used to own, San Diego PC Help in Mira Mesa, a technical repair shop.
He said it was a successful company, competing with the likes of Best Buy's Geek Squad.
But in 2008, the Great Recession hit, and the industry died, he said.
By 2012, he was looking for new ways to expand, so using the computer equipment he already had, he transformed the business into a gaming center.
In 2012, Siegel said no one was talking about e-sports.
"By 2013, 'League of Legends,' had really taken off, and then they were (talking about it). And so I just continually bootstrapped the business from that point on," Siegel said.
Prev Next