RETAIL: CREATING EXPERIENCE AND COMMUNITY CAN PAY OFF
Some Bookstores Are Able to Find Their Success Story
Sunday, May 27, 2018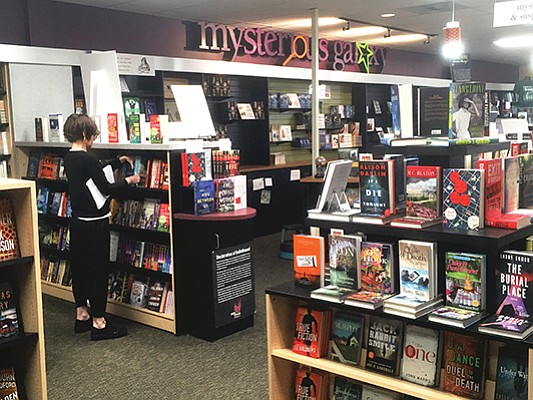 San Diego — "Location, location, location."
The adage is just as valid for the successes of some brick and mortar bookstores today as it is for selling property — that and a bit of community engagement, too.
Mysterious Galaxy Bookstore, which has been in operation for the last 25 years, knows that being involved in the community and developing relationships is key to success.
The store has expanded beyond curating a wide selection of books. It has embraced its role in the community by participating in local events and hosting author talks at its location on Balboa Avenue.
"While I think it's challenging to point to any one philosophy that successful independent businesses have in common, one I'd certainly advocate and believe has contributed to Mysterious Galaxy's 25 years of sharing the magic of books has been actively participating in our community, from developing relationships with local organizations — including, but not limited to our fellow indie booksellers — to taking part in our regional and national booksellers associations resources and activities," Maryelizabeth Yturralde, co-owner of the bookstore, said in an email.
While brick and mortar bookstores around the nation and in San Diego have taken a hit from competition by behemoths like Amazon, some in San Diego continue to engage book lovers.
Page Turners
Ryan Raffaelli is a Harvard Business School professor and the author of a report that's identified how independent bookstores are surviving in a continually growing e-commerce world.
In the released abstract (the full report is expected to be published later this year), Raffaelli found three things helping bookstores to flourish: "community," "curation" and "convening."
Raffaelli's study began when he saw a statistic from the American Booksellers Association, which said that from 2009 to 2015, the number of independent bookstores across the country increased by 35 percent.
Some media reports began calling it a bookstore "resurgence."
But while data from the U.S. Census Bureau doesn't show an increase in the amount of bookstores in San Diego (from 2009 to 2015, their numbers decreased by 40 percent), some bookstore owners and operators still say that business is good.
IBISWorld data shows nationwide bookstores are expected to be a $12.6 billion industry in 2018. Their annual growth, however, from 2013 to 2018 is down 2.4 percent. IBISWorld forecasts the industry to shrink 0.9 percent from 2018 to 2023.
Still Drawing Readers
Mimi Hannan, assistant manager/buyer of La Playa Books in Point Loma, is one of those that say business is humming.
Prev Next