RETAIL: CREATING EXPERIENCE AND COMMUNITY CAN PAY OFF
Some Bookstores Are Able to Find Their Success Story
Sunday, May 27, 2018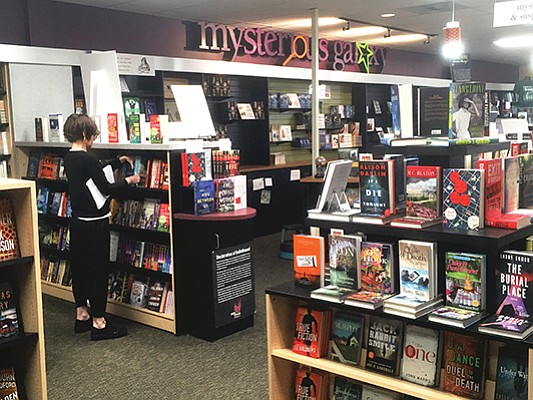 San Diego — "Location, location, location."
The adage is just as valid for the successes of some brick and mortar bookstores today as it is for selling property — that and a bit of community engagement, too.
Mysterious Galaxy Bookstore, which has been in operation for the last 25 years, knows that being involved in the community and developing relationships is key to success.
The store has expanded beyond curating a wide selection of books. It has embraced its role in the community by participating in local events and hosting author talks at its location on Balboa Avenue.
"While I think it's challenging to point to any one philosophy that successful independent businesses have in common, one I'd certainly advocate and believe has contributed to Mysterious Galaxy's 25 years of sharing the magic of books has been actively participating in our community, from developing relationships with local organizations — including, but not limited to our fellow indie booksellers — to taking part in our regional and national booksellers associations resources and activities," Maryelizabeth Yturralde, co-owner of the bookstore, said in an email.
While brick and mortar bookstores around the nation and in San Diego have taken a hit from competition by behemoths like Amazon, some in San Diego continue to engage book lovers.
Page Turners
Ryan Raffaelli is a Harvard Business School professor and the author of a report that's identified how independent bookstores are surviving in a continually growing e-commerce world.
In the released abstract (the full report is expected to be published later this year), Raffaelli found three things helping bookstores to flourish: "community," "curation" and "convening."
Raffaelli's study began when he saw a statistic from the American Booksellers Association, which said that from 2009 to 2015, the number of independent bookstores across the country increased by 35 percent.
Some media reports began calling it a bookstore "resurgence."
But while data from the U.S. Census Bureau doesn't show an increase in the amount of bookstores in San Diego (from 2009 to 2015, their numbers decreased by 40 percent), some bookstore owners and operators still say that business is good.
IBISWorld data shows nationwide bookstores are expected to be a $12.6 billion industry in 2018. Their annual growth, however, from 2013 to 2018 is down 2.4 percent. IBISWorld forecasts the industry to shrink 0.9 percent from 2018 to 2023.
Still Drawing Readers
Mimi Hannan, assistant manager/buyer of La Playa Books in Point Loma, is one of those that say business is humming.
The store, owned by Jim Hall, carries a range of books, from used to new, to some that are rare and collectible.
It opened in October 2016, after Hall did his research in seeking out the right community, Hannan explained.
"San Diego is definitely a reading town," Hannan said. "We have the right demographic...to support a community bookstore."
Hannan said she feels the San Diego bookstore scene is "very healthy."
That observation stems from the recent Independent Bookstore Day, a nationally held event, which falls on the last Saturday of April each year.
"That's a chance for every community...to celebrate their local bookstore, and here in San Diego we had an Independent Bookstore Day Crawl," she said.
Patrons, she explained, visited nine bookstores around the county.
"It was our biggest day that we've had since we've been open," she said. "There's definitely a lot of people who are hungry for that in San Diego. It's a pretty healthy community of both new bookstores and used bookstores and combo bookstores."
Challenges
According to a report from IBISWorld, the bookstore industry has continued to experience declines over the last five years, despite a strengthening domestic economy and rising per capita disposable income.
The reason for the declines, the report finds, is due to changes in consumer purchasing behaviors.
"The industry has experienced increased competition from mass merchandisers, department stores and online retailers," the report states. "These competitors are able to offer a wide selection of books at low prices, deterring consumers from purchasing merchandise at traditional book stores."
Hannan said challenges for small, specialty retail does come from stores like Walmart and Amazon or any other big box type retailer.
Yet, La Playa's location is walkable, she explained.
"So people like to be able to walk around and browse and find gifts or find a book to read...I think that that's making the resurgence...it is definitely making a comeback in San Diego," she added.
That's a sentiment echoed by J.P. "Phil" Phillips, owner and sole employee of the Carlsbad bookstore Farenheit 451 (he left the first "h" out intentionally.)
He said over the last three years, business has been going up about 25 percent a year.
"I don't know about this year," he said, adding, "it may even be more."
He couldn't pinpoint exactly why his business has been going well lately, but location could play a part.
"Parking sucks," he said. "But parking is bad everywhere."
Though his bookstore on Carlsbad Village Drive is walking distance to the ocean, there are hotels all around, timeshares and a lot of Marines, he explained.
"Marines and their families, who are always visiting ... are a huge part of my business," he said.
Community
Like Mysterious Galaxy, community involvement has been a mainstay for La Playa Books, too, according to Hannan. The store also hosts external events, participates in the San Diego Union-Tribune's Festival of Books, and others.
"We do try to get ourselves known out in the community and be a part of the community," she said.
It's a bit different for Phillips, though.
"I stay out of the new release business, I don't have a coffee operation, I don't do book signings," he said.
He's spent 30 years in the book selling business, opening two stores first in Julian before coming to Carlsbad in 2006.
"The recession almost killed me," he said. "And when the recession hit, there were a couple of years that were pretty horrible.
"It was a miracle I made it through that, but things have been really booming here the last several years, especially the last three or four years."
He credits having a really good landlord for his being able to maintain the business. He recently leased a new space next to the bookstore, but it will mostly serve to stage inventory for now.
He's hosted events in the past.
"Sometimes it works," he said.
On some nights, he'd have live music outside the store, and it was fun, he explained. "But business stops for those three or four hours they're out there, so I think, 'Why am I doing this?' I guess it might be working for some people."