FOOD: WITHOUT JACK, CO. WILL RAMP UP STAFFING, EYE NEW SITES
Qdoba Sees Opportunities For Talent, S.D. Stores
Thursday, May 24, 2018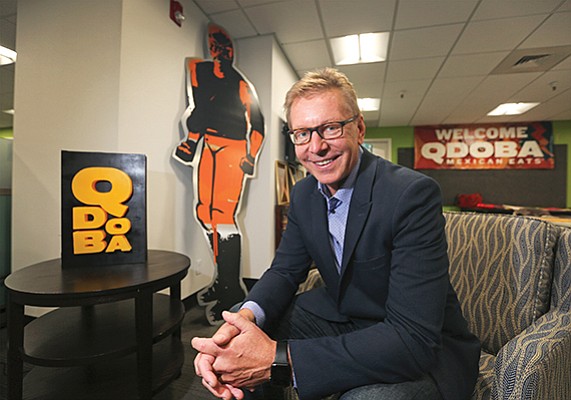 continued — Ali Sheppard, a New York-based restaurateur who's worked with eateries like Chipotle and Tres Carnes, agrees with this philosophy.
"The most important part of any business is the people," he said. "To continue to grow sustainably, you must build a culture of empowered high performers who truly understand a commitment to the mission. Servant leadership must be demonstrated so those who follow you understand your commitment to the team and overall organization."
Culinary Beliefs
Sheppard also adds that he believes the path toward success for Qdoba will be through remaining authentic and grounded in its culinary beliefs. "For Qdoba to continue to grow its brand and business, it needs to remember its foundation," he said. "The primary focus of the business should not be sales and numbers but flavor without compromise. The mission of changing the perception of popular food culture, the idea that 'fast' shouldn't mean not fresh. Instead, by utilizing high quality ingredients with a commitment to better business practices, this will lead to sales and growth naturally."
As for Apollo's role, Guilbault says the company is working very closely with Qdoba, which is the second-largest fast-casual Mexican food brand in the United States, to make sure the brand continues to grow, although he wouldn't divulge specifics. (The largest fast-casual Mexican food chain is the Tex-Mex Moe's Southwest Grill, according to the annual EquiTrend Study from Harris Poll.)
"I can say we have a very defined, strategic plan we co-developed with Apollo to grow the business," he said. "They are helping us by providing guidance, strategy and the resources we need to run and grow our business."
Under the wings of Jack in the Box, which bought Qdoba in 2003, the fast-casual chain grew from 17 locations in 16 states with $65 million in sales to more than 700 restaurants in 47 states and Canada, with sales of more than $820 million in the 2017 fiscal year.
A New Combo?
And, although Apollo's restaurant and hospitality businesses include Chuck E. Cheese's restaurants, there was no available information on whether Qdoba would collaborate with the chain, as of press time, despite reports that the two restaurants could be combined. Bloomberg reported last May that Apollo was in talks with investment firm Ares Management LP to sell the kids' arcade and pizza chain. Representatives from Apollo declined to comment.
As far as potential apprehensions about Qdoba's success, with sales falling 1.4 percent in the 2017 fiscal year reportedly due to a 50 percent rise in avocado prices, Guilbault says he isn't concerned.
Previously, "It was a story about two very different brands underneath one umbrella: One was a very franchise business and one that is more heavily company-operated," he said. "But, we are thrilled to be on our own with great leadership roles. I love the Qdoba brand — it has a great history and legacy. Qdoba makes fresh food in the restaurant every single day, and it has a history of caring about employees. This is something I take very seriously. Every day I walk into the office, I know it is my responsibility to live up to that heritage."
Prev Next