PRODUCTION: CO. TO PURSUE SYSTEM SOLUTIONS, TEAMS WITH SDG&E
Maxwell Makes Big Auto Deal and Moves in Other Markets
Tuesday, May 22, 2018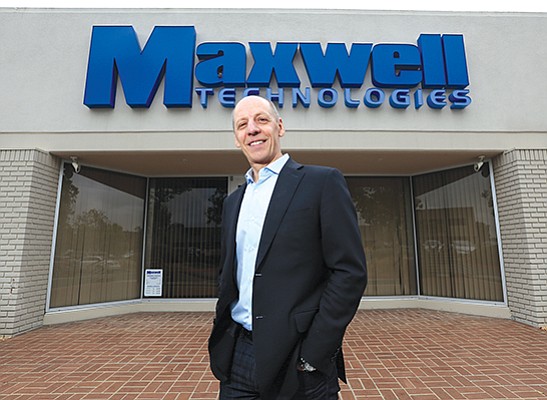 continued — While automotive makes up the majority of business for Maxwell, energy storage is another industry where the company is looking to incorporate its technologies.
It is working with North Carolina-based Duke Energy, providing fast-response ultracapacitors, which store and discharge energy, for the energy company's hybrid ultracapacitor-battery energy storage system.
Closer to home, Maxwell is also collaborating on a project in Borrego Springs with San Diego Gas and Electric (SDG&E).
Fink said the two companies are looking to put ultracapacitor energy storage capabilities next to batteries to capture solar energy or wind energy, and then distribute it.
"Where we come in...is battery storage energy," he said. "As you have more demand versus energy available or vice versa, we basically make sure that you have a very, very constant voltage integrate, which is critical."
Challenges
In 2017, Maxwell acquired Nesscap Energy Inc., a South Korean-based ultracapacitor company for $23.18 million. In the same year, the business also underwent a restructuring, including reducing its headcount, embarking on a cost-containment campaign and consolidating its manufacturing and supply chain, according to previously published reports.
This year, Maxwell announced total revenue of $28.4 million for its first quarter, down when compared with $30.8 million for the fourth quarter of 2017 but above the $26.7 million for the same quarter the prior year, according to a news release.
However, the company's restructuring and acquisition of Nesscap have worked out very well, according to Fink.
"There are other challenges like everyone has... as you build a strategy to go from component to systems supplier — there's only that much you can do organically," Fink said. "We have been building a very strong R&D team here in San Diego. We're going to continue to build on that R&D team — all from material science to component to systems development to grow with us here in San Diego."
Lessons Learned
At the end of the day, the most important thing is that you have a nucleus of a technology that is differentiating, and a very capable world-class team that very well understands to develop and evolve said technology, Fink explained.
"Without that...core, you will go nowhere," he said. "Whenever you are the leader, very early in the market, you see very early traction," he said. "But as you are in markets, maybe in the early stage of development, certain things ramp, then they slow down, and it just takes some time until you're right in the sweet spot of a megatrend that finally, really is going to take off."
Fink added that he's very confident in what they are doing at the company, not only with Volvo, but with its other customers.
He's hopeful the company is right in the middle of some megatrends that finally kick off.
Prev Next