PROPERTY: DEVELOPER, DESIGNER PLAN MIXED-USE PROJECT IN SOLANA BEACH
'Flight' Plan Ready to Help Renew the Cedros Design District
Sunday, May 13, 2018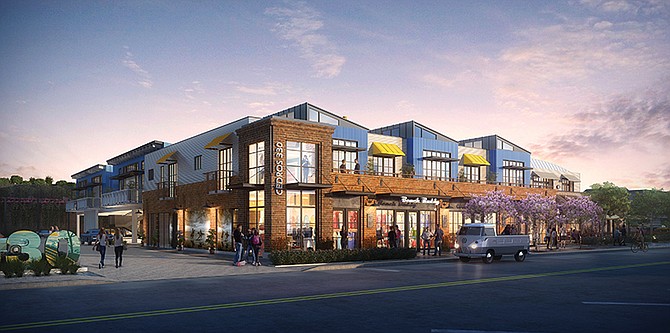 San Diego — The man who was a driving force behind creation of the Cedros Design District in Solana Beach more than 25 years ago has come up with a project he hopes will breathe new life into the two-and-a-half block collection of shops, day spas and boutiques.
But Sean MacLeod isn't going to build it.
For that, he turned to one of North County's most prolific developers, Adam Robinson's RAF Pacifica Group.
"That project was designed to create a focal point in the middle of Cedros Avenue where there wasn't one before," said MacLeod, who is managing director of the South Cedros Property Owners Association.
"Adam, unlike some other people, is going to do a great job. Adam is the perfect guy, his group is the perfect group to do this build-out," MacLeod said. "This will absolutely continue the upward swing of Cedros."
The Cedros Design District is in the center of Solana Beach with a mix of more than 85 businesses from real estate offices and cafes to furniture stores and clothing vendors.
Filling a Hole
MacLeod spent two years designing the new project and getting city permits and California Coastal Commission approval for it, before turning it over to RAF Pacifica, which acquired the land last year for $5 million.
Within the next few weeks, Robinson expects to break ground on the 26,000 square foot mixed use project, which MacLeod dubbed Cedros 330 but Robinson has renamed "flight."
Flight will go on a one-acre spot that was Cedros Gardens until the owner retired and closed it in 2015.
Although it was a long-time fixture, "That nursery wouldn't draw the kind of people who would drive and spend the day in the Cedros Design District," McLeod said.
The hope is that RAF Pacifica's project "will fill a big hole in the middle of Cedros Avenue," McLeod said.
"It will be a night and day difference when this project gets underway and this project opens," MacLeod said.
The venture will include a 3,200 square foot restaurant and 5,000 square feet of retail on the ground floor.
The second floor will have 8,000 square feet of office space and eight apartments taking up an additional 10,000 square feet.
"It's going to be a really good mix for that street," Robinson said. "There's a need for newer retail on the street."
Town Center Feel
Combined with the opening in November 2017 of the 11,560 square-foot West Elm furniture and home decor store, MacLeod said the project will "create a very town center kind of feel" to the design district.
Prev Next