Developmentally Disabled Get Chance to Work and Create
Sunday, May 13, 2018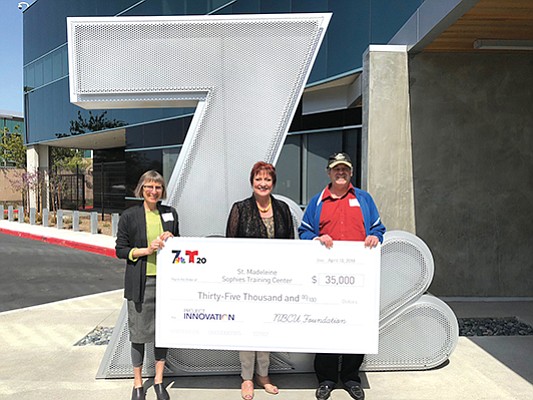 San Diego — St. Madeleine Sophie's Center, an El Cajon-based nonprofit, announced that it received a $35,000 Project Innovation grant from NBCUniversal Foundation.
The grant will fund SMSC's Sophie's Gallery Art Program and the use of technology to support entrepreneurial and artistic efforts of individuals with developmental disabilities to earn income and become productive, integrated members of the working community. The project will use e-commerce and technology to market and promote artworks and other items made by SMSC students with developmental disabilities to generate income from their work, secure funds for needed job producing program supplies, and receive recognition and support from beyond the immediate geographic community.
SMSC's art program includes three gallery and program sites that create and sell mosaics, paintings, fused glass, jewelry, ceramics, printmaking, textile arts and weaving. The artistic creations are sold at Sophie's Gallery and Gift Shop in downtown El Cajon; Sophie's Too at the organization's main campus in El Cajon and Sophie's Kensington Gallery in partnership with the Autism Research Institute. More than 300 adults with developmental disabilities attend Sophie's Gallery Art Program year-round.
Debra Emerson, SMSC's CEO, said the display of the artwork builds the students' self-esteem and that "the public gains increased knowledge about the talents, skills and creativity of people with developmental disabilities. Students earn a percentage of the sales price and the balance goes back into the art program to help fund program costs." Visit: stmsc.org
• • •
The Greater San Diego Association of Realtors and the Real Estate Mediation Center announced that mediator Harold Coleman Jr. received the Chair's Award for the American Bar Association Section of Dispute Resolution. This prestigious award represents Coleman's lifelong dedication to his craft and unending contributions to the Alternative Dispute Resolution community nationwide.
Coleman received the award during the ABA 20th Annual Section of Dispute Resolution Spring Conference in Washington, D.C., in April 2018.
Coleman is the vice president for mediation at the American Arbitration Association, and is a mediator at the REMC and vice-chair for SDAR's mediation committee.
The Real Estate Mediation Center in Kearny Mesa has been resolving residential and commercial real estate disputes since 1991. Visit: realestatemediationcenter.com.
• • •
Think Dignity announced that it is Lyft's first Community Grants Program recipient in San Diego. The rideshare company is granting $1,000 in rideshare credits that will provide valuable support for Think Dignity's homeless clients. The grant helps Think Dignity provide necessary transportation for displaced San Diegans to attend vital doctor's visits, appointments, housing screenings, and get to where they are in need of getting to in a dignified and timely manner. Visit thinkdignity.org.
• • •
The University of California, San Diego announced a major gift from the Ray and Tye Noorda Foundation of $4.7 million to investigate the potential of cannabidiol as a treatment for severe autism. The award was given in partnership with and based on recommendations the Noorda Foundation received from the Wholistic Research and Education Foundation. Autism is a complex neurodevelopmental disorder that affects an estimated 1 in 68 children in the United States, yet treatment options are limited. Cannabidiol, or CBD, is a nonpsychoactive compound found in cannabis and may hold clues for developing effective therapies for Autism.
The $4.7 million gift to the Center for Medicinal Cannabis Research at the UC San Diego School of Medicine is the largest private gift to date for medicinal cannabis research in the United States.
The gift from the Ray and Tye Noorda Foundation contributes to The Campaign for UC San Diego, a comprehensive $2 billion fundraising effort to transform the student experience, the campus and, ultimately, the way humanity approaches problems and develops solutions. Visit campaign.ucsd.edu.
Send Kudos/Giving items to s
glidden@sdbj.com.