PROPERTY: CONSTRUCTION MAY START IN 2019
At Bay, City, Developer And Shovels Ready to Go
Thursday, May 10, 2018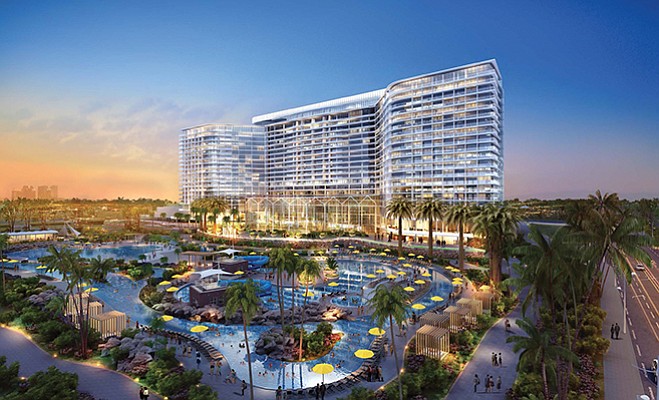 San Diego — At long last, after more than 25 years of talk and false starts, a $1.1 billion resort hotel and convention center on Chula Vista's bayfront may be close to becoming a reality.
"I am really, really hopeful this time and I'm a lot more positive than I've ever been before," said Chula Vista Mayor Mary Salas. "There are still steps to be done, but we're so much closer to seeing the actual development go forward than we ever were."
The reason for Salas' optimism is a disposition development agreement, called a DDA, signed in April by the Chula Vista City Council, the Port of San Diego and RIDA Chula Vista LLC — the company that would develop a 1,600-room hotel and 275,000 square-foot convention center on a 36-acre site west of Marina Parkway between H and G streets.
The agreement commits RIDA to building the hotel and convention center, requires the city and Port District to make related infrastructure improvements, and sets forth financing plans for the project.
The Economic Impact
The hotel and convention center would be operated by Gaylord Hotels, the convention hotel brand of Marriott International.
Officials estimate the project would generate $1.3 billion for the region's economy during construction and create more than 2,300 jobs with a long-term annual economic impact of $475 million and create 4,470 permanent jobs.
Ann Moore, Chula Vista's representative on the Port of San Diego Board of Port Commissioners shared Salas' optimism about the project.
The port owns the land on which the convention center and resort hotel will be built.
"This is the closest we've ever been. Absent anything really bad happening, I just can't imagine this won't go forward," Moore said. "To me, it's personally an historic moment for the city of Chula Vista, for the whole South Bay."
Getting the Ball Rolling
Moore said the resort hotel and convention center would be "sort of the catalyst" toward development of the 535-acre bayfront as outlined in a master plan approved by the California Coastal Commission in 2012.
"It's the cornerstone for development to occur," Moore said. "I feel confident about it and I feel the approval of the DDA has bolstered my confidence. We have a game plan in which the city, the port and the developer know exactly what steps we need to take in order to make this project happen."
RIDA Onboard
RIDA Development Corp. President and CEO Ira Mitzner said his company is fully committed to the project.
Prev Next