PHARMA: PARTNERSHIPS AND PROMISING PIPELINE BOOST CO.
Ionis' New Role Is Managing Success
Wednesday, May 9, 2018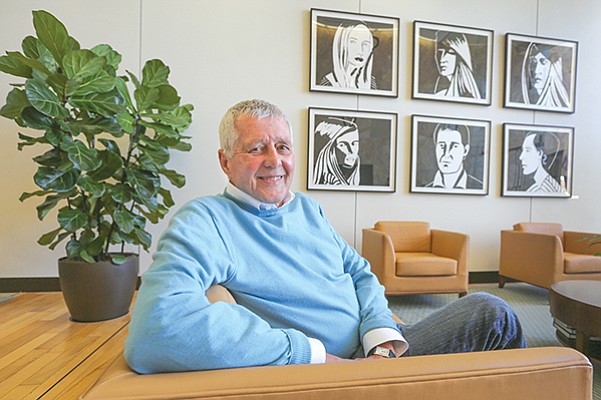 San Diego — When Stanley Crooke formed Ionis Pharmaceuticals in 1989, he saw the venture as a longshot. He told investors as much.
"I wasn't telling venture investors anything they probably couldn't figure out themselves. Making drugs is a tough business. Creating a new platform for drug discovery has rarely been done," said Crooke, still CEO. The vision — blazing new ground in chemistry to target tough disease areas — turned into a $5.7 billion biotech. After years of trials and tribulations, Ionis is on a roll.
In 2017, the company's blockbuster drug helped swing Ionis from an operating loss to profit. Ionis holds a 40-drug pipeline. Capping off a string of mammoth partnerships, Massachusetts-based Biogen will pay Ionis $1 billion in cash to develop neurological drugs, it was announced last month.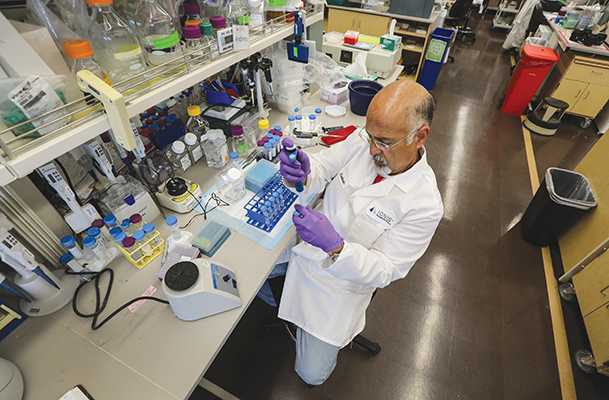 Undervaluing the Company?
In late February, Ionis reported $508 million in revenue, a 46.4 percent year-over-year increase. For all the momentum, Crooke believes Wall Street undervalues Ionis, which he brought up twice during an hour-long interview at Ionis' Carlsbad headquarters.

"We still have disappointments. We're disappointed that our stock price isn't at a much higher price," Crooke said from his office, which offers sweeping views of sagebrush-covered fields.
Ionis was trading near $43 a share on May 1.
Wall Street seems nervous over a May 10 U.S. Federal Drug Administration panel on Ionis' volanesorsen. Per late-stage clinical trials, volanesorsen successfully treats a debilitating rare disease, but safety concerns have weighed on volanesorsen and a few other Ionis drugs.
That's according to Wells Fargo analyst Jim Birchenough. Nonetheless, he's bullish on Ionis given pent-up value in the hopper.
"This is a stock where it's being valued looking backwards at historical issues. And we think it's worth a lot more if you look forward," Birchenough said.
In the short term, another Ionis drug is poised for approval: inotersen, which targets abnormal protein buildup, a systemic problem that can be fatal. However, Ionis faces competition on this front.
A Big Opportunity?
Long-term promise includes early data on a potentially groundbreaking drug to reduce the underlying cause of Huntington's disease.
This means the fatal genetic disease could be stopped or even reversed, which would mark a first. Swiss pharmaceutical giant Roche paid Ionis $45 million to license the Huntington's drug in December. Next, Roche will run a pivotal trial of the drug candidate to further gauge clinical efficacy and safety.
"That could represent one of the most exciting opportunities in biotech," Birchenough said.
John McCamant, editor of the investment source Medical Technology Stock Letter, said the $1 billion Biogen deal validated Ionis' so-called antisense platform.
Antisense Platform
Antisense drugs bind to RNA instead of proteins, which have been the focus of the pharmaceutical industry for more than 100 years. Ionis furthered antisense chemistry for greater potency and easier delivery. The company's expertise in the area, which few others occupy, lends Ionis a competitive advantage, according to analysts.

"Biogen is a validation. If there was really some lingering safety issues, they (Ionis and Biogen) wouldn't be signing those kind of partnerships after having worked with each other and the technology," McCamant said.
Biogen's $1 billion payment includes $625 million to purchase shares of Ionis common stock, as well as a $375 million upfront payment. Biogen will have the option to license neurological therapies arising from the deal.
McCamant said Ionis wins in neuroscience — an area big pharma historically struggled with — would be huge.
Ionis, formerly Isis, changed its name in 2015 to avoid any association from the Islamic State, or ISIS.
Overcoming Setbacks
Honing antisense technology came with clinical flops, market failures, regulatory setbacks and mass layoffs. Notably, Ionis axed 160 positions in 2005 as part of a reorganization.
"We have a whole presentation that we make to our folks just on our history. What happened, what went right, what went wrong, what we did that helped us survive, and how that informs what our future looks like. I could spend another day or two or three talking about all the disappointments and failure that we had," Crooke said.
Crooke knew going in his goal — a disruptive platform for unmet medical needs — would take years, even decades. Prior experience afforded the realistic perspective.
He led the creation of the anti-cancer program at Bristol-Myers in the first five years of his career and then assumed responsibility for worldwide research and development at SmithKline Beckman — high-level positions made even more impressive considering he was the first in his family to graduate from high school.

Spinraza Success
Ionis hit its first home run in December 2016, when its drug Spinraza won regulatory approval. Spinraza treats spinal muscular atrophy, which affects more than 25,000 people in the U.S. and kills many before their second birthday.

The company reported $113 million in Spinraza royalties in 2017, boosting Ionis' balance sheet. Operating income in 2017 came to $25 million, compared to a $46 million loss the prior year.
Spinraza has been a miracle drug for patients, which Crooke extolled. With an M.D. from Baylor College of Medicine, he considers himself a doctor first.
"If we'd done nothing but Spinraza, it would have been worth the journey. It would have been worth the effort, and it would have been worth the money," Crooke said. "Fortunately for us, that's just the beginning."
While known for exploring uncharted territory, Ionis finds itself in a showdown in the near term. Ionis' inotersen — the abnormal protein disease drug — is up against Alnylam Pharmaceuticals' drug patisiran. Both drugs are soon expected to get the green light and hit the market, following dueling clinical data presentations on a Paris stage last fall.

Ionis has convenience on its side, since inotersen requires an injection once per week at home, while patisiran requires an infusion over four to five hours at a clinic. But analysts say Massachusetts-based Alnylam's drug may have a better safety profile, which Ionis disputes.
Crooke sees this as another example of Wall Street underestimating Ionis. But he acknowledged Ionis must better explain what's unique about its drugs.

Telling the Story
"We have a lot of work left to do on getting the story understood and the value we've created understood," he said.
Some have also questioned Ionis' model, said Yale Jen, a senior biotech analyst at Laidlaw and Co.
Unlike vertically integrated pharmaceuticals, Ionis entrusts drug commercialization to pharmaceuticals and an Ionis spinout, Akcea Therapeutics. That way, Ionis can keep the focus on research and development.
"Does a company have to be fully integrated to be successful from a stock perspective? Short answer is not necessarily," Jen said, adding other companies prove this.
After nearly three decades, Crooke said Ionis is in a new phase: managing success.
"There was a period of time when the questions were substantially larger than the answers, and now we have more answers than questions."