Sempra Energy Q1 Numbers Come in Low
Tuesday, May 8, 2018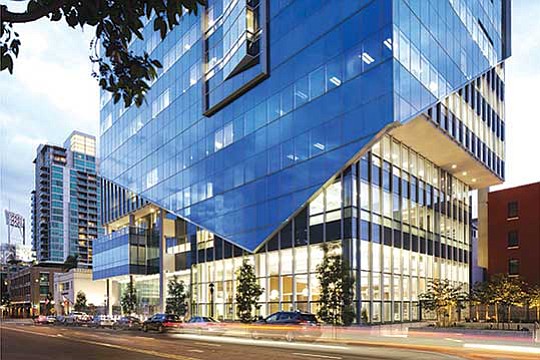 San Diego-based Sempra Energy's first quarter 2018 income fell to $358 million from $452 million in the same period last year due to costs primarily related to its acquisition of majority stake in Texas-based Oncor Electric Delivery Company LLC.
Earnings per share were $1.33 for the quarter ending March 31, down from last year's $1.75 per share.
The Fortune 500 company's total revenue slid 2.5 percent to $2.96 billion in the first quarter of the year as compared with $3.03 billion in the same quarter a year ago, according to financial results released May 7.
Sempra Energy's (NYSE: SRE) first-quarter 2018 earnings included higher financing costs at the parent company, according to a news release. These costs were incurred starting in January, largely due to the $9.45 billion anticipated acquisition of Oncor, which was completed in early March.
First-quarter 2018 consolidated results also reflected a $25 million income-tax expense to adjust 2017 provisional amounts related to the Tax Cuts and Jobs Act of 2017.
"During the quarter, we successfully implemented our leadership succession plan, completed the Oncor transaction and continued execution of our capital program in our utility and infrastructure businesses," Sempra CEO Jeffrey W. Martin said in a news release. "Our underlying business performance was solid and consistent with our expectations."
The company's leadership has undergone some changes, with Martin assuming the CEO role on May 1. Joseph A. Householder became Sempra president and chief operating officer and Trevor I. Mihalik became Sempra's executive vice president and chief financial officer.
The leadership changes came when Debra L. Reed announced in March that she would step down as president and CEO effective May 1. She is continuing to serve as executive chairman of the company until her retirement Dec. 1.
Sempra highlighted completion of the acquisition of an approximate 80-percent indirect ownership interest in Oncor, after receiving final regulatory approvals for the transaction. Sempra expects $320 million to $360 million for its portion of partial-year earnings from Oncor in 2018.
IEnova, a subsidiary of Sempra based in Mexico, announced in April that the company has been awarded a $130 million project to build and operate a liquid fuels marine terminal near Ensenada, Mexico. The terminal is expected to commence operations in the second half of 2020.
Also in April, SDG&E and Southern California Gas Co. (SoCalGas) filed supplemental testimony in their 2019 General Rate Case applications regarding impacts of federal tax reform. As a result of tax reform, SoCalGas is projecting reduced customer bills, while SDG&E expects incremental wildfire mitigation investments to substantially offset any bill reductions.
In quarterly earnings for the other companies, SDG&E showed an increase to $170 million compared to last year's $155 million. SoCalGas was up $225 million from last year's number of $203 million.