Executive Q & A: Steve Fendley, Kratos Defense & Security Solutions
Tuesday, May 8, 2018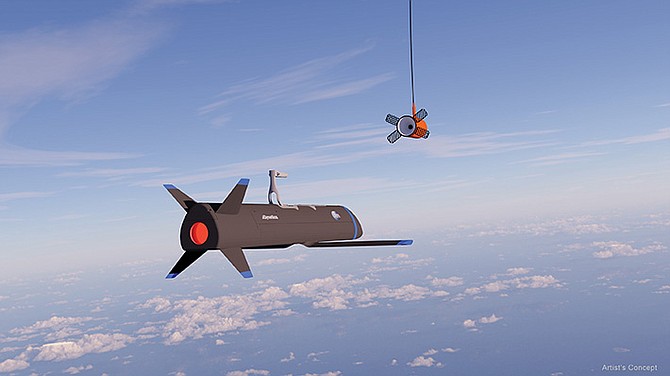 San Diego — Steve Fendley, senior vice president and division president of Kratos' Unmanned Systems Division, took time from his Roseville office to speak with the San Diego Business Journal about the company's Phase III work on DARPA's (U.S. Defense Advanced Research Projects Agency) Gremlins project.
The project is expected to add to the U.S. Air Force's capabilities, allowing it to launch and recover a number of reusable, unmanned aerial systems (UAS), commonly referred to as "drones," from the skies.
The project is bringing in more than $6 million to the San Diego-based Kratos Defense & Security Solutions Inc., which develops transformative, affordable technology for the Department of Defense (DOD) and commercial customers.
Kratos is teaming up with Huntsville, Alabama-based Dynetics on the project to provide the UAS, as well as conducting flight and recovery tests and system demonstrations. The Gremlins project marks the first major endeavor between Kratos and Dynetics, according to Fendley.
The responses have been edited for space and clarity.
Q: What is Kratos doing differently than other companies in the (UAS)
industry to achieve success?
A: There's a couple of things. First, our size is basically a mid-tier size, which allows us to be a little bit more responsive and have a little bit lighter bureaucracy, maybe, enabling us to be more adaptable to various requirements. And certainly over the past 15 to 20 years, I think the defense budgets have really tightened up. So the companies who are able to be a little bit more nimble tend to have a little bit of an advantage. Couple that with our entry into unmanned aircraft, in general... the path that we've taken is, instead of starting from the manned aircraft side and converting things to an unmanned aircraft, we've started from the very, very inexpensive unmanned side, and added some capability to get to these tactical UAS. And I think that's given us an inherent advantage.
Q: How has the partnership with Dynetics in the Gremlins program advanced Kratos' business needs?
A: It's an outstanding partnership. We're very complementary. We have very little bit of overlap with Dynetics...What's been attractive about us to them...is the low-cost, high-performance specific purpose unmanned jet aircraft we've jointly developed, and will now produce these unmanned aircraft that will be part of the Gremlins program. It's a very, very logical, and has been, a productive partnership between the two companies.
Q: What are some the potential directions Kratos can take its UAS portfolio?
Prev Next