Business Success Means Engaging All Stakeholders
Sunday, May 6, 2018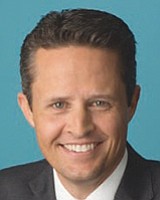 San Diego — Bygone corporate strategy held that companies manage their business and responsibilities in silos — clients in one silo and shareholders in another. Human resources were separate, and charitable contributions an afterthought. Teamwork and integration were too often neglected. Interdependency of stakeholders was an unknown concept.
Times have changed.
In today's corporate consciousness, we recognize that silos are mostly counter-productive. We are all stakeholders in success. Our responsibility to serve all stakeholders is synergistic: What's good for our clients is good for our community. And what's good for our team members is good for our shareholders. Helping each one of our stakeholders helps all of our stakeholders. It's all good, as the saying goes. Let me give some examples of how it works:
Team Members & Shareholders
Your team is your company's most important asset; team performance drives company performance. So progressive companies invest heavily in their teams and dedicate their company to supporting each team member personally and professionally.
This includes heightening the focus on improving how to select top talent, build great teams, and retain both recent hires and experienced team members. Give team members enhanced tools and support for professional development and career planning. Recognize that a younger generation of workers may want a different work environment and new types of incentives, then make changes to your employment proposition to accommodate these preferences. You'll see the results in your company performance — and so will your shareholders and potential investors.
Community & Team Members
Seek to attract team members to your company who are dedicated to helping their local and global communities. People who are active and engaged in their community are more likely to be active and engaged in their workplace.
Whether it's AMN Healthcare's Hickory, N.C., office filling backpacks for hungry local children, or relief work for hurricane victims in our Dallas co-headquarters, all of our team from San Diego to New England can give back to their communities from their workplace.
Every time we put out a call for a new community service initiative, our team response is tremendous. The benefits between team members and the community are reciprocal.
Company investment in community service projects not only provides substantial benefits for underserved groups, but it also helps reward and retain team members who are dedicated to helping others. And a growing list of customers and shareholders actively seek to work with and invest in companies with programs focused on community involvement, social and environmental programs, and diversity initiatives, so these programs are not only the right thing to do, but also just good business.
Prev Next