ECONOMY: SURVEYS SHOW OPTIMISM NEARLY UNCHANGED FROM 2017
Tourism, Craft Beer Confident in Having Customers' Support
Thursday, May 3, 2018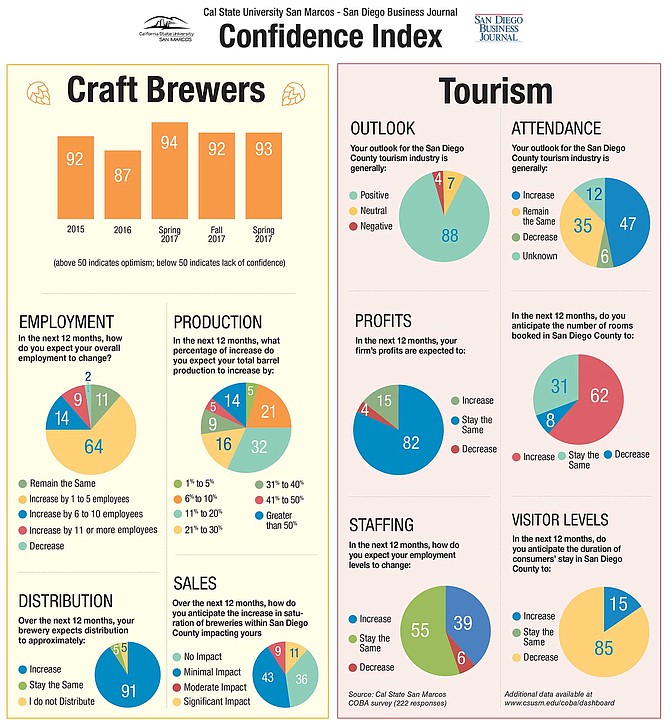 San Diego — San Diego craft brewers are still confident about the future of locally-made beer even as they worry about competition and market saturation.
While ducking into a local tavern might or might not be on the itinerary of travelers to sunny San Diego, tourism-oriented businesses, such as hotels and restaurants, expect the visits to the region to continue unabated.
Those are among the findings in the latest San Diego craft brewers and the tourism industry confidence indices respectively. The Business Confidence Index has been developed over the past few years by the Cal State University San Marcos College of Business Administration and the San Diego Business Journal.
The initiative has used the business school's Senior Experience Program, which matches teams of students with projects submitted by local businesses and organizations. The index is calculated from specific survey responses and uses 50 as a baseline score.
A number above 50 indicates overall optimism in the local economy; anything below 50 indicates a lack of confidence. The recent survey was conducted in late March and early April and had 44 respondents in the craft beer industry and 49 in the tourism industry.
The spring 2018 results indicate a business confidence index (BCI) of 93 among craft brewers — almost unchanged from last year. The BCI for the tourism industry stood at nearly 78 points, also unchanged from last year. BCI is based on a company's assessment of its current position and expectations for the immediate future.
Both visitor numbers and spending in San Diego has been rising the past five years, the San Diego Tourism Authority data show. In 2013, 33.1 million visitors spent $8.4 billion in the area. In 2017, those numbers climbed to 35 million spending $10.8 billion.
Tourism Remains Hot
Tourism Boom In San Diego
Visitor Volume
2013 – 33.1 Million
2014 – 33.8 Million
2015 – 34.3 Million
2016 – 34.9 Million
2017 – 35 Million
Visitor Spending
2013 - $8.4 Billion
2014 - $9.2 Billion
2015 - $9.9 Billion
2016 - $10.4 Billion
2017 - $10.8 Billion
More than half of the tourism survey respondents — 53 percent — were in the lodging business, while nearly 27 percent were restaurateurs in tourist areas. Nearly 90 percent of those surveyed said their outlook for San Diego tourism was generally positive; 63 percent reported increased profits in the last year and 82 percent expect profits to rise in the next 12 months; nearly half said they expect event attendance/visitor numbers to grow in the next year. Room bookings in the same period were expected to rise 62 percent, but nearly 85 percent said they expect the length of stays to remain the same.
Prev Next