OFFICE: VARIETY, VERSATILITY ARE PLUSES OF NO SET SEAT
Free Address Office Sits Well With More Companies
Thursday, May 3, 2018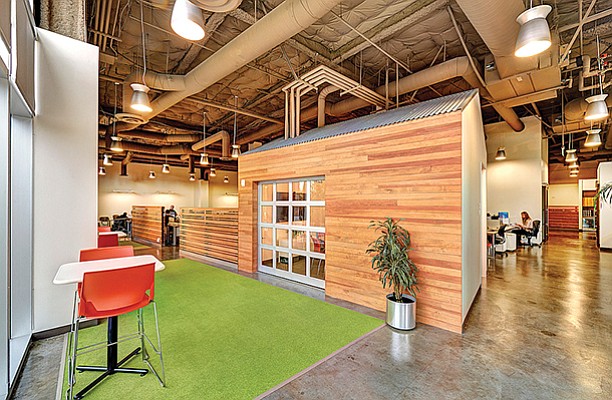 continued — For example, Wisniewski said if she wants a space with a double desk and one is taken, "I just move to the next double available. If I have a preference, such as facing the window, I move to the next double that faces the window."
What could have been Wisniewski's office in a traditional arrangement is a corner area dubbed the Top Gun Lounge where anyone can go to work or relax.
"I am more than happy to share it with other people," Wisniewski said.
Although most people at Moss Adams don't have assigned workspaces, "it doesn't assume you close everything up and have to move every night," Wisniewski said. People can use the same spot for as long as they need it to accomplish their work.
'Open and Collaborative'
Illumina, a genomics company headquartered in San Diego, has adopted a hybrid office model it calls its "Work Anywhere" program in the i3 building at UTC.
"For those employees and job functions that require a work station and a dedicated and assigned desk, we will make sure they have that," said Jenny Durbin, Illumina's senior manager for facilities planning.
Others who spend much of their time working in groups, in conferences or out of the building choose where they work in Illumina's i3 building space, depending on what they're doing from day-to-day.
"Part of our values is that we're open and collaborative. Our workplace should reflect our culture and values," Durbin said. "You don't work at a desk, you work at Illumina and you work in a variety of places."
Every Illumina employee has their own laptop, which they can plug in wherever they work.
CEO Francis deSouza has an assigned workspace, but not a private office, Durbin said.
CBRE's offices in UTC Westfield mall are fully free address, with no assigned work spaces for anyone, from executives to support staff.
People arrive in the morning and pick where they'll work, from rows of desks to conference rooms to huddle rooms that are like large phone booths.
Lounge Area Option
They can also work in a large open lounge area or gather at small benches.
"There's a tremendous amount of energy, there's a tremendous amount of collaboration," Ewald said.
Each day, the process starts over. CBRE brokers and other workers can use lockers to store whatever they need to keep on hand, but the work spaces are cleared from day-to-day.