RETAIL: JEROME'S EXPANDS STANDALONE DREAM SHOP FOOTPRINT
Furniture Sector Finds Money in the Mattresses
Tuesday, May 1, 2018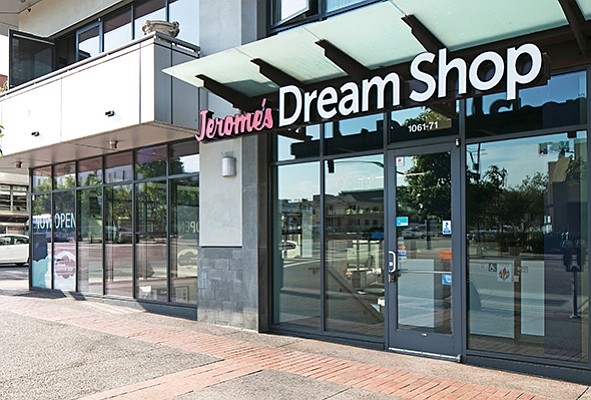 continued — It's pretty flat across the board, explained Guattery, who added that many of the younger consumers might be buying their first mattress because they're moving out of home, or they're buying their first house.
"Whereas consumers between 35 and 54 might have higher income levels, which allow them to upgrade their mattresses; and elderly consumers are looking into the health benefits," she said.
Online Operators
Woods said Jerome's hasn't really seen a slowdown in sales with the rise of online competitors.
"We're aware of it," Woods said of the online mattress market. "We take it seriously. There's no question that the online guys are making a big push and growing market share, but we've taken some steps, and, I think, strategically positioned ourselves to where we can continue to take market share at the same time."
Online operators do, however, present an opportunity of convenience, something that the younger consumers might be attracted to, according to Guattery.
"These online operators definitely present a threat to the brick-and-mortar bed and mattress retailers, but mattresses are a huge and necessary investment for most people," she said.
Guattery likened it to buying a car — where most people prefer to test drive the car, many people want to lay down on their mattresses and get a feel for where they're going to spend six to eight hours a night on, before they purchase them.
Challenges Ahead
The biggest things operators in the bed and mattress industry compete on are the type of mattress they retail, Guattery said.
"One of the things that's going to be increasingly important for these operators to focus on is research and development and coming out with new products," she said. "Everybody always wants something bigger and better. As operators have introduced things like climate control or being able to raise your feet or head of a mattress... they're definitely going to need to invest in coming out with the bigger or better product that's out on the market."
Jerry Navarra, chairman of the privately owned Jerome's Furniture, helps to develop product with suppliers based on his decades of knowledge, Woods said.
While research and development for the Jerome's mattress line follows trends, Woods said its designs are based more on comfort.
The company has the majority of its products manufactured at Diamond Mattress, a family-owned and operated company making handcrafted mattresses, based in Compton, California.
Prev Next