RETAIL: JEROME'S EXPANDS STANDALONE DREAM SHOP FOOTPRINT
Furniture Sector Finds Money in the Mattresses
Tuesday, May 1, 2018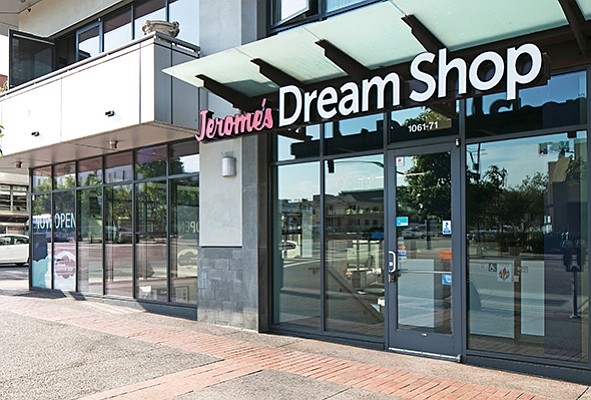 San Diego — Everyone needs a mattress — and a recent report, along with announced expansion plans for one local company, are helping to prove it.
"In general, bed and mattress stores are increasing pretty consistently," said Meghan Guattery, an analyst with IBISWorld.
The bed and mattress industry has become a $15 billion industry with a growth of 5.6 percent from 2012 to 2017, according to the latest report by IBISWorld.
The report states that the bed and mattress stores industry has expanded strongly over the five years. "Mattresses are ubiquitous products with very few widespread alternatives, which supports relatively consistent growth."

Speaking of growth, San Diego-based Jerome's Furniture, which entered the mattress industry decades ago, said in March it would be growing its footprint with the expansion of its standalone mattress stores, Jerome's Dream Shop, over the next several months.
Expanding on What Works
Brian Woods, CEO of Jerome's Furniture, said the company does more volume and sales with mattresses than any other category in its furniture stores — in all of their 13 full line stores, mattresses are the largest category in every single store — accounting for about 25 percent of the company's total sales.
"We've experienced year-over-year growth in mattresses of 20 percent for three years in a row," he said.
That was the push that led the company, which employs approximately 900 people throughout the Southern California region, to open its first store outside the San Diego region in March, with its newest location in Temecula.
Mattress Store Model
In comparison to furniture stores that might retail mattresses as well, Guattery explained that these standalone mattress stores, such as the way Jerome's is opening its standalone stores, give store operators more floor space to retail mattresses specifically.
"Since mattresses are a product that consumers want to see and lay down on and test out, it doesn't make too much sense for a furniture store to use so much space specifically for mattresses, than opening these stores that are specifically dedicated to mattresses. It allows these operators to have an entire building where the floor space is all dedicated to mattresses," Guattery said.
Woods said the average size of the new Dream Shops range from 3,000 to 3,500 square feet.
The Buyers
According to the IBISWorld report, consumers under the age of 35 make up about 35 percent of the mattress buying clientele; consumers between the ages of 35-54 are about 32 percent; consumers 55 and older are about 33 percent.
It's pretty flat across the board, explained Guattery, who added that many of the younger consumers might be buying their first mattress because they're moving out of home, or they're buying their first house.
"Whereas consumers between 35 and 54 might have higher income levels, which allow them to upgrade their mattresses; and elderly consumers are looking into the health benefits," she said.
Online Operators
Woods said Jerome's hasn't really seen a slowdown in sales with the rise of online competitors.
"We're aware of it," Woods said of the online mattress market. "We take it seriously. There's no question that the online guys are making a big push and growing market share, but we've taken some steps, and, I think, strategically positioned ourselves to where we can continue to take market share at the same time."
Online operators do, however, present an opportunity of convenience, something that the younger consumers might be attracted to, according to Guattery.
"These online operators definitely present a threat to the brick-and-mortar bed and mattress retailers, but mattresses are a huge and necessary investment for most people," she said.
Guattery likened it to buying a car — where most people prefer to test drive the car, many people want to lay down on their mattresses and get a feel for where they're going to spend six to eight hours a night on, before they purchase them.
Challenges Ahead
The biggest things operators in the bed and mattress industry compete on are the type of mattress they retail, Guattery said.
"One of the things that's going to be increasingly important for these operators to focus on is research and development and coming out with new products," she said. "Everybody always wants something bigger and better. As operators have introduced things like climate control or being able to raise your feet or head of a mattress... they're definitely going to need to invest in coming out with the bigger or better product that's out on the market."
Jerry Navarra, chairman of the privately owned Jerome's Furniture, helps to develop product with suppliers based on his decades of knowledge, Woods said.
While research and development for the Jerome's mattress line follows trends, Woods said its designs are based more on comfort.
The company has the majority of its products manufactured at Diamond Mattress, a family-owned and operated company making handcrafted mattresses, based in Compton, California.