DEFENSE: IT DISABLES LINK; MILITARY SAID TO HAVE DEPLOYED SYSTEM
Defensive Technology Breaks Drones Chain of Command
Tuesday, May 1, 2018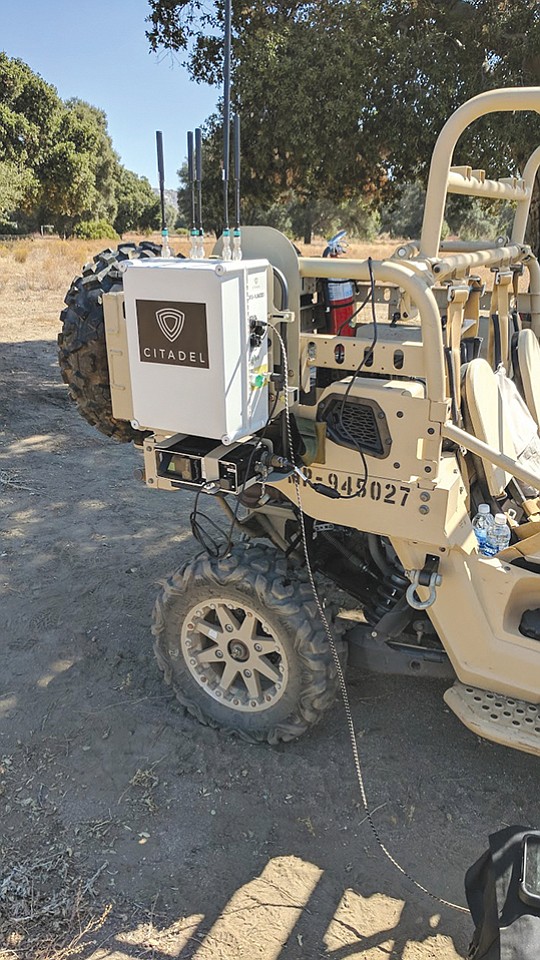 continued — The system can be autonomous or human controlled.
National Defense
Less than a year ago, Citadel Defense still had sports stadiums in mind as its biggest potential clients.
However, according to Magy, there are a ton of legal issues for deploying counter UAS (unmanned aircraft systems) technology.
The military's special operations community found the company — Magy still doesn't know how — and military began testing the system. Then, the military started buying the products.
Enemy groups, such as ISIS, have started using commercial-grade drones in order to drop bombs on allied military troops, especially in Mosul, Iraq.
"(The military) has a threat that changes every 90 days, and they need to work with small, agile companies to solve that problem," Magy said.
Citadel Defense's systems are now deployed in active combat zones — locations couldn't be disclosed.
The Competition
Big players such as Raytheon, Boeing and Airbus Defense are working on counter drone technologies, along with a handful of smaller companies also trying to solve the problem.
Citadel Defense is focusing on defending against the commercially-available drones that can be purchased at hobby or electronics stores.
To date, the company has about half-a-dozen government and military groups that have invested in its technology.
"It's usually really hard for small companies to get in, but we have some good past performance on our technology. They're happy with it," Magy said.
But he said what they're doing is an "unbelievable representation" of what a public/private partnership can do.
"Drones are not going to go away," said Magy, adding that in San Diego, ballparks and airports have drone issues.
In Balboa Park, for instance, Magy said he sees drones flying on a regular basis.
"That is right underneath an active flightline," he said.
He knows hobbyist drone pilots want to get good video footage, but he tempered that by saying he didn't want to know what a lithium ion battery could do to a jet engine.
He also cited drone issues occurring at San Diego's shipyards, MCAS Miramar and along the U.S.-Mexico border.
$12 Million Series A
Citadel Defense received $12 million in a Series A financing round in February from Lightspeed Venture Partners, led by the venture capital firm's partners John Vrionis and Larsen Jensen.
"I was thrilled to invest behind Dan (Magy) and his world class team," Vrionis said in an email.
"Citadel (Defense) is by far the leading company in the counter UAV (unmanned aerial vehicle) space which is quickly becoming a critical layer of security for commercial and military use cases. We are partners for the long haul and hope to advise, support and help build Citadel with Dan through the years ahead."