ECONOMY: CREATION OF SPECIALTY BEER HARD TO SWALLOW FOR SOME
Ballast Point, EDC Team Up to Support Fund, Sell A Beer
Tuesday, May 1, 2018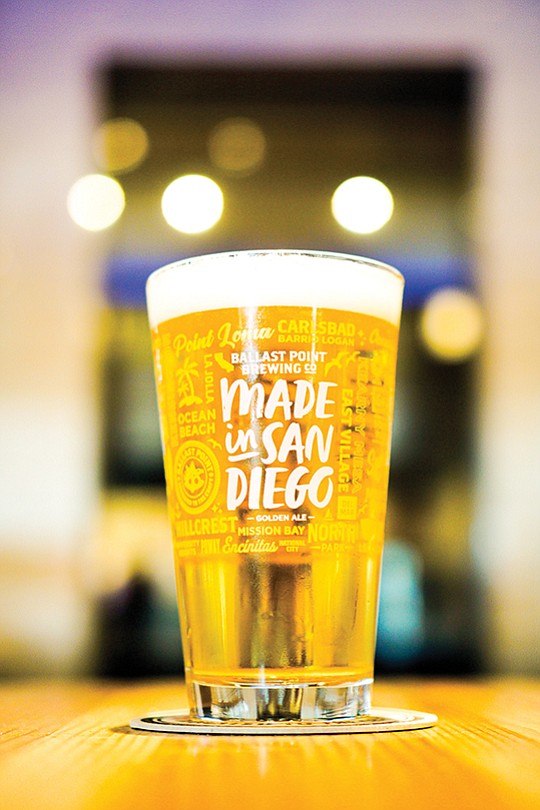 San Diego — Ballast Point Brewing Co., which got its start in San Diego more than 20 years ago with a small group of homebrewers, is looking to give back to the city that gave the company a chance to grow.
The brewery has started a "give back initiative," teaming up with the San Diego Regional Economic Development Corp. (EDC).
"The give back initiative will raise funds for the EDC's San Diego Entrepreneurial Fund, which assists small businesses and entrepreneurs, so they can grow and thrive in San Diego, ultimately creating more employment opportunities in the region," Hilary Cocalis, vice president of Ballast Point marketing said in an email.
The specialty beer, named, "Made in San Diego," is being sold exclusively in San Diego, with 50 cents for every case sold going to the fund.
While Ballast Point got its start in San Diego and continues to have an impact in the region, the company that was founded by Jack White, Pete A'Hearn and Yuseff Cherney, sold to New York-based marketing and beverage producer, Constellation Brands Inc., for $1 billion in 2015.
Officials at the San Diego Brewers Guild, however, are scratching their heads at the recent partnership.
The Guild, which is focused on protecting the hard-earned reputation of local companies and educating consumers on the importance of supporting independent craft brewers, said it is appreciative of the efforts made by EDC to promote local businesses and the region's economy. But going with a corporately-owned beer company doesn't quite line up.
"Ballast Point Brewing Co. is clearly a company born in America's finest city with a strong legacy to the brewing community," a statement from the Guild said. "However, the partnership to brew 'Made in San Diego' exclusively with Constellation Brands-owned Ballast Point is not supportive of our region's small, independent craft brewing community and does not align with the San Diego Brewers Guild's mission."
Yet, Ballast Point has nearly 400 jobs here, and they are a homegrown success story, explained Lauree Sahba, chief operating officer of EDC.
"Given their presence in the region we consider them a really important partner and lots of companies that we work with aren't headquartered here," she said. "But when they provide jobs in the region, we find value in supporting them."
Cocalis said the partnership with the EDC came about from an already existing relationship and a shared passion for San Diego. Ballast Point approached EDC with the idea of tying a beer to a give-back initiative for local businesses, and the EDC was very supportive.
Prev Next