RETAIL: TV TIME, WALMART SHELF SPACE GIVE PRODUCT GOOD EXPOSURE
Lactation Bar Company Strategically Nurtures Its Niche
Tuesday, March 27, 2018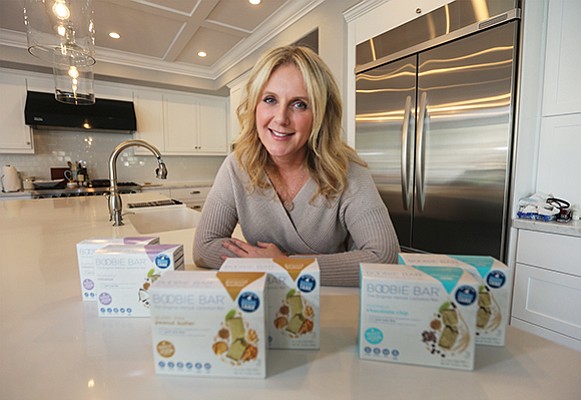 San Diego — Carlsbad-based Boobie Bar, which makes snack bars with "milk-making" herbs for new mothers, recently received a $150,000 investment for 20 percent of the company from a "Shark Tank" investor — money it has used to propel further expansion of its new product lines.
Wendy Colson, a nurse, launched the company in 2015 in response to a demand for a product that seemed to increase lactation for members of her breastfeeding support group.
Within 18 months, Colson said she was profitable. Annual revenue topped $1 million in 2017 and Walmart began selling the company's gluten-free peanut butter bars in more than 350 stores in January.
Since its launch, the company has sold more than 792,000 bars; its boxes of six bars, which start at $17.99, are sold at more than 1,200 stores worldwide.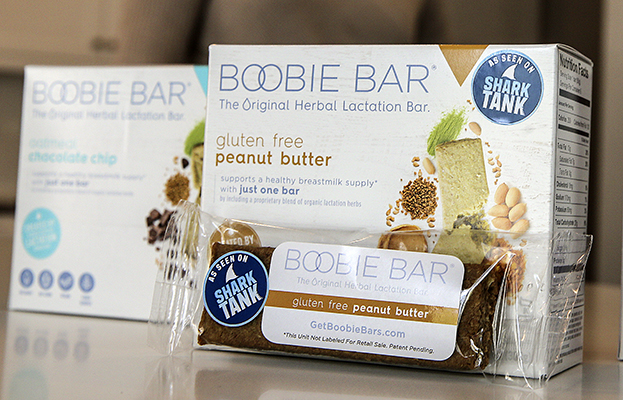 Colson Health Inc.
As a registered nurse for more than 21 years and an International Board Certified Lactation Consultant, Colson specializes in women's health and is the founder of Colson Health Inc. Colson, who is commonly referred to by her customers as Nurse Wendy, started her breastfeeding support group, Milk & Cookies, at a baby boutique in Carlsbad in 2011. When one of the support group moms asked her what bar she should buy as a lactating mother, Colson was stumped and decided her weekly baked goods should become nutritious bars for nursing moms. She came up with her own lactation food product with its proprietary blend of "milk-making herbs," that she dubbed Boobie Blend.
Colson said she didn't initially consider selling the bars commercially. But she found significant demand.
"The sales kept going up and everybody who tried Boobie Bars within my support group reordered," Colson said. "I had a 94 percent reorder rate."
Mujtaba Ahsan, assistant professor of management at the Fowler College of Business Administration at San Diego State University, said the niche market Colson tapped into appears to be growing. "According to various industry reports, the nutrition bar segment is growing at a high rate and there are a number of nutrition bar companies focusing on various niche markets (e.g., vegan, athletes, etc.)," Ahsan said. "However, their growth rate likely will be limited as the birthrates in the U.S. are declining."
According to the Centers for Disease Control and Prevention, about 4.27 million people were born in the U.S. in 2006; 3.95 million births happening in 2016, the most recent year for which statistics are available.
Ahsan said companies in this nutrition bar market also must differentiate their products from generic and other niche market nutrition bars.
"They will need to create unique products and invest in developing a brand to stand out in this market," Ahsan said. "There are other similar products in the market such as Milkful Lactation Bars, Milkmakers' Lactation Bars, Oat Mama Lactation Bars."
Finding Manufacturer
In 2014, Colson contracted with a manufacturer to handle the volume of orders.
An attorney who specializes in U.S. Food and Drug Administration compliance helped her with the wording of the packaging. Meanwhile, she hired someone who scales recipes to commercial products, and who ultimately helped Colson get a manufacturer. Her bars meet the qualifications for a supplement, which does not require FDA approval.
Hospital Sales
The Boobie Bars were first sold at Sharp Mary Birch Hospital for Women & Newborns in San Diego.
"From there I had about 30 accounts within the first six months of small boutiques and hospitals all over the U.S.," with the highest sales in states such as California and New York, Colson said.
In late 2017, Scripps Memorial Hospital La Jolla began selling her products.
With flavors such as oatmeal chocolate chip, gluten free peanut butter, and blueberry coconut, these lactation bars include organic moringa, organic shatavari, turmeric, fenugreek, spices, flaxseed, coconut oil, and oats. Colson combined these ingredients using her expertise as a nurse and lactation consultant, along with the help of local moms' insight.
ABC's "The Chew" talk show host, Daphne Oz, mentioned Colson's product on the air. That was around the time that Colson was emailing companies like Buybuy Baby, Babies R Us and Target, hoping to get her product on their shelves. Colson heard back from Buybuy Baby, and a week later from Babies R Us to confirm deals to sell her bars in the food and formula section at Buybuy Baby, and the supplement aisle at Babies R Us, before Oz took note of her product.
The company increased production to meet the big-box stores' demand. Since its placement on Walmart's mom's health aisle, Colson said the company has exceeded its sales projections with the retail store. This spring Colson launches a nutritional powder using her special blend of herbs to promote health with her new mommy products, which can be ordered on www.getboobiebars.com.