REAL ESTATE: HE FINDS RIGHT SPOT FOR BOTH RESTAURANT AND NEIGHBORHOOD
Broker Brings Knowledge, Creativity to the Table
Tuesday, March 27, 2018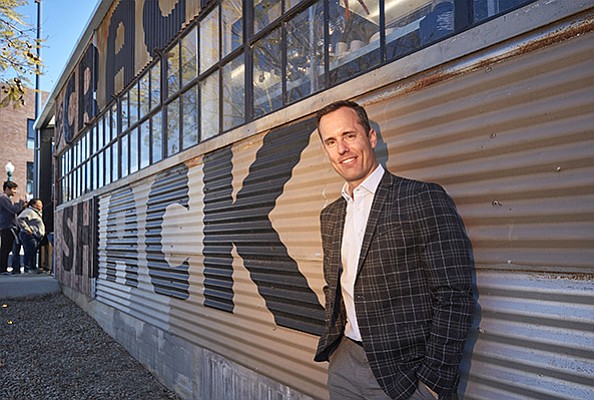 San Diego — As Little Italy's restaurant scene has exploded over the past few years, commercial real estate broker Nate Benedetto has played an active role in helping restaurateurs find the space for their concepts.
"I love the creativity behind restaurants," said Benedetto. "I love the psychology and the creativity behind retail as to finding what people want and curating your offering."
Benedetto, 41, has completed 21 real estate transactions in Little Italy over the past five years. Some of them have been high profile: Juniper & Ivy in Little Italy, the expansion of chicken-centric The Crack Shack beyond its Little Italy location, and Born & Raised, the $6.5 million steak house concept from CH Projects' Arsalun Tafazoli.
Benedetto and his past clients credit his success to his ability to be keyed into his community, focusing on the long term rather than short term results, and taking the time to provide counsel on restaurant locations.
Lifestyle Guide
After moving to San Diego in 2002 from Colorado, Chicago native Benedetto managed a credit union, was a bank manager, and started Urbanist, a San Diego lifestyle guide. Benedetto felt like the publication wasn't going to be an easy way to make a living but he saw an opportunity for it to aid the commercial real estate career he'd been contemplating.
"I know all of these business owners in town, I know the neighborhoods really well. What other services can I provide that would utilize these relationships but be able to help them and provide value?" said Benedetto. "The growing firms are going to need new locations. The shrinking firms are going to need to shed locations and I can be their guy. And that was the crux of my business plan and it seemed to work."
Benedetto joined commercial real estate firm Strom Commercial in 2005 and started Next Wave Commercial with Paul Ahern in 2016. He said that Next Wave Commercial has allowed him to make a bigger dent in the retail and restaurant market by partnering with Ahern who had a similar specialization.
Making Creative Connections
Benedetto said his creative connections, in part built through the Urbanist, help him know about available buildings before they hit the market. Born & Raised's location at 1909 India Street is an example of an off-market property Benedetto was keyed in on.
"A lot of the biggest deals that we've done are just putting landlord and tenant together where it's not publicly listed on the market, but just knowing where a change can happen and that we can find a way to make a deal in a creative way," said Benedetto.
Judy Preston, Greater San Diego Association of Realtors board member, said that real estate professionals who participate in the creative communities of San Diego — like Benedetto does — and figure out what they need will be successful. This means understanding trends in business — for example, many business owners prefer to set up shop within a community rather than a mall.
Arsalun Tafazoli of Born & Raised feels that Benedetto stands out from other brokers because he invests time in deals that'll work long term, not just make a lot of money short term. This involves making a deal work for all sides of the transaction and knowing what businesses would benefit a community like Little Italy.
"He could have easily taken on an Olive Garden or a Darden restaurant or something and probably gotten way more. But the result of that would have been to the detriment of the neighborhood," said Tafazoli.
Trusted Advice
Mike Rosen, co-owner of The Crack Shack, found that Benedetto was a good adviser on finding the perfect spot to open Rosen's first restaurant, Juniper & Ivy. Benedetto talked him out of a lot of spaces and convinced him to go for the restaurant's current location at 2228 Kettner Blvd.
When it came time for Rosen to expand The Crack Shack beyond its flagship Little Italy location, he reached out to Benedetto again.
"As I started fielding all the inquiries I started saying 'I need somebody to help me pour through them and figure out what our brand represents and where we should be looking,'" said Rosen. "And again that's where Nate stepped in and probably again talked me out of a lot of deals that, who knows, I might have regretted."
Shedding Peripheral Things
If Benedetto has had to sacrifice anything to focus on real estate success, it's been his free time. Urbanist has taken a pause and he's had to close down the jewelry company, Sparkle Friday, he owned with his wife.
"I was juggling a few different things there for a little bit, but the focus has always been on real estate," said Benedetto. "I'm just kind of shedding some of the peripheral things."
In the future, Benedetto will be helping The Crack Shack secure other locations in Los Angeles and Northern California and assisting the UC San Diego with its restaurant and retail spaces.