PROPERTY: AIM IS TO CUT CAR USE, CREATE VILLAGE FEEL
Merge 56 Is 'Redefinition of Suburbia' Via Mixed-Use
Monday, March 26, 2018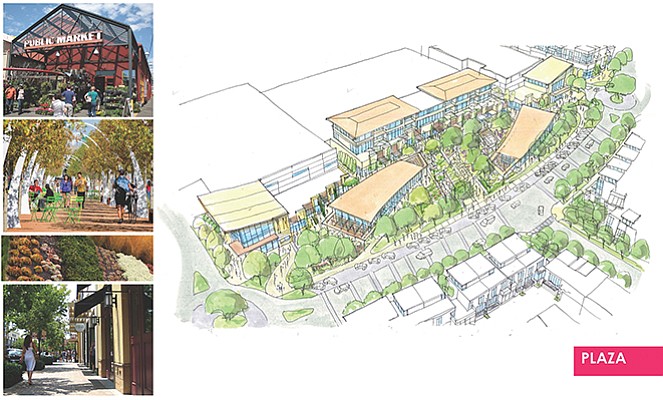 San Diego — What once would have been a conventional big-box shopping center in Rancho Penasquitos/Torrey Highlands will instead to be transformed into what Sea Breeze Properties owner Gary Levitt said will be a walkable community of retail shops, offices and residences.
Renamed Merge 56, the new $350 million-plus project would go on 42 acres of what had been part of the 147-acre Rhodes Crossing project approved by the City Council in 2004.
Levitt bought the property in 2013, and decided from the outset that he wanted something different.
"The plan was just for a shopping center of 1990-something design, not the plan for the neighborhood of the future," Levitt said.
Working with Latitude 33 Planning & Engineering, "We decided we would redo the plan," Levitt said.
Modern Mixed-Use
Approved unanimously by the San Diego Planning Commission in February and tentatively slated for City Council review in May, Merge 56 will have more than 500,000 square feet of commercial space, a movie theater and 242 residences that would be a mix of detached homes, condominiums and apartments with 47 of the residential units earmarked as affordable housing.
"This is a real redefinition of suburbia," said Melissa Krause, associate principal of Latitude 33.
"The big-box center envisioned in the 1990s when Rhodes Crossing was designed doesn't work anymore, Krause said. "We do truly believe that this is taking a project and making it a real, modern mixed-use project. We just live in a different world with different needs."
Community Space
About half of Merge 56 will be residential, with the housing integrated with the retail to give the project more of a community or village feel, Krause said.
Instead of a big-box store surrounded by a huge parking lot with fast-food outlets on the fringes, the new Merge 56 would have meandering walkways with places people could relax and cafes and restaurants where they could meet or just hang out, Levitt said.
"We took all of the things we learned over the last 20 years to do it right," Levitt said. "It's all about place, it's all about creating a reason for people to go there."
A key element to the new project is a central plaza with lots of public seating.
"It's a community they designed as opposed to a bunch of buildings with a sea of parking, which is what they replaced," said Planning Commissioner Doug Austin, who also is founder, chairman and CEO of AVRP Skyport architects.
Ditching Car-Centric Design
"One of the problems with cities of the recent decades is that they have been dominated by the automobile and we have to take our cities back, make them more walkable, make them more people-friendly," Austin said.
In the case of Merge 56, wide sidewalks, bike lanes and a system of trails will encourage people to walk the project.
Roundabouts will replace traffic lights in the project as a way to slow traffic and make it safer for pedestrians to cross streets.
"Overall, the project was really well designed and well thought out," Austin said. "It's a way to be smarter about our growth patterns. People talk about smart growth, and it's an overused term, but if we don't start mixing our uses, we're going to miss opportunities to house people and get them out of their cars, get them walking around."
The project also is being designed to be sustainable, using solar panels to produce much of its own energy and water conservation measures, "everything from the type of toilets we will be using to the water faucets," Krause said.
Key Road Connection
As part of the project, Sea Breeze will connect what is a missing link of Camino Del Sur, giving people who live nearby easier access to state Route 56.
"The road stops, there's a missing piece, the road starts again," Krause said. "This is providing a critical linkage in the road system. It's going to save so much time."
If all goes well, Krause said grading could start in August, with building construction starting in mid-2019 and the first residences ready for occupation in mid-2020.