American Indian Health Center Launches Capital Campaign
Sunday, March 25, 2018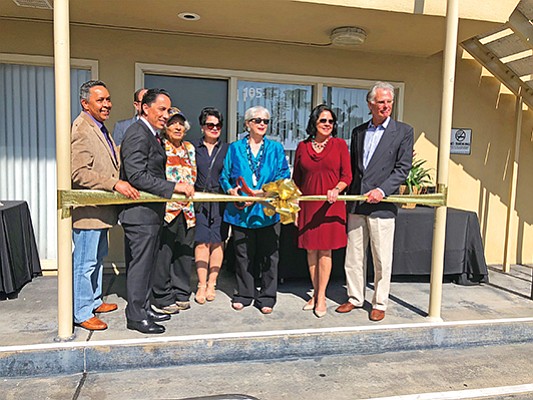 San Diego — The San Diego American Indian Health Center held a ribbon cutting recently to celebrate the acquisition of the buildings that house its current location plus an additional building immediately north of the clinic that is designated for expansion of the organization. The ribbon cutting kicked off the capital campaign to raise an estimated $11 million for the renovation and expansion that will double SDAIHC's capacity.
The ceremony included an introduction from Joe Bulfer, CEO of SDAIHC, followed by a speech from special guest speaker, Assembly Member Todd Gloria, of the 78th Assembly District. The ceremony also featured traditional music by the Red Warrior drum group and Kumeyaay Bird Singers.
SDAIHC is a key resource for more than 20,000 low-income community members and American Indians who receive health care services at its Bankers Hill facility. Visit sdaihc.org.
• • •
North County Health Services board of directors recently announced the appointment of Barbara S. Kennedy as its president/CEO. Kennedy has an extended background with more than 20 years of senior health care experience. She brings a working knowledge of health care management and systems to her new role at NCHS. Most recently, she served as president/CEO of Northern Arizona Healthcare Verde Valley Medical Center in Arizona.
Sheila Brown, NCHS board-chair and vice president continuum care at Palomar Health said: "Kennedy brings with her a wealth of knowledge and extensive executive health care experience."
Kennedy replaces NCHS' current president/CEO, Irma Cota, who has led the organization for more than two decades. Cota led an organization that once operated out of a basement in Ramona to a thriving organization with 13 clinics, a workforce of more than 700 staff and an annual budget projected at nearly $80 million for 2018. Visit nchs-health.org.
• • •
Local nonprofit, Women's Empowerment International recently celebrated International Women's Day when women from the San Diego community gathered at the Women's Museum of California in Liberty Station for a reception. Guests enjoyed a slideshow and presentation about Women's Empowerment's recent site visit to Haiti where the group funds a program to empower Haitian women entrepreneurs. 
"The bravery and determination of the Haitian women are truly inspiring," Paige Bradley, executive director of Women's Empowerment International said. "The strong turnout shows how San Diegans are acting locally to create positive change in our community and around the world."
The event was co-sponsored by the United Nations Association San Diego and was attended by more than 80 guests.
Prev Next