DINING: KITCHEN STAFF'S FRESH ROLE CHEF-TO-TABLE CONCEPT
Creating A New Dynamic in Dining
Monday, March 19, 2018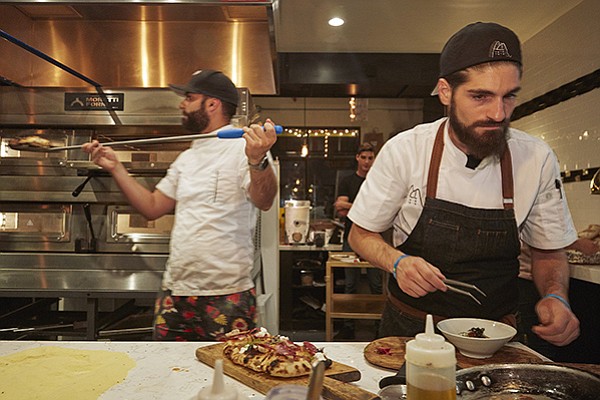 San Diego — A new Italian restaurant, Maestoso, has begun offering a unique dining experience: chefs will both cook and serve guests their meals, a concept called "chef-to-table."
Roman chef Marco Maestoso founded the eatery alongside his partner, Dalila Ercolani, friends Christopher Antinucci and Giulia Colmignoli of NaPizza restaurant group, and Antinucci's brother and professional racecar driver Richard Antinucci. Maestoso and Ercolani previously owned the now closed fine dining restaurant Casa Maestoso in Rome and created highly regarded pop-up diners in New York City.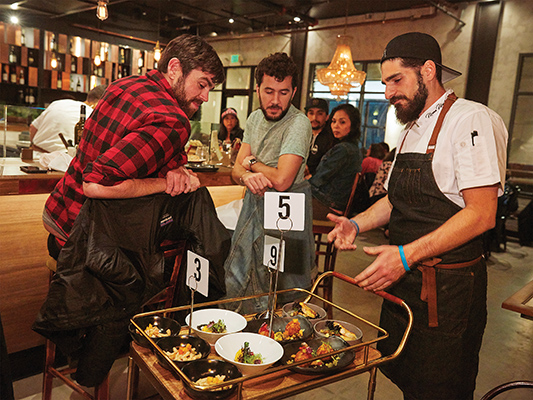 The 2,000 plus square foot space eatery is located in what was formerly a NaPizza outlet at The Hub Hillcrest Market, 1040 University Ave. A soft opening occurred March 8.
Maestoso and Ercolani haven't seen other restaurants practicing a chef-to-table concept similar to their restaurant except for State Bird Provisions in San Francisco.
Tonya Whitfield, a culinary professor at San Diego Mesa College, considers a true chef-to-table restaurant one in which the chefs are involved in all aspects of food creation—they're sourcing the food locally, designing the menu, cooking, and serving.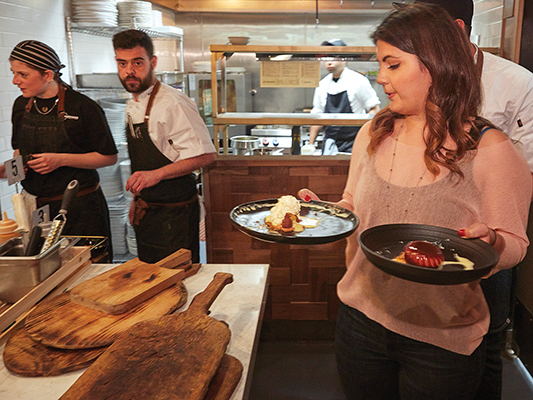 Changing the Gratuity Model
"I want to say 75 percent of the restaurants that are chef-to-table chefs aren't serving their own food. That's kind of a new concept based on California law," said Whitfield.
California law states that tips can only be given to those that have direct contact with guests or in the chain of service that has a relationship to the customers' experience.

Maestoso says that he and the other chefs are also involved with duties like sourcing and designing a menu. He says he tries to source a lot of their products locally but some specialty Italian products such as the wines and flour are imported.
The restaurant has both an open kitchen — viewable to guests — in addition to a back kitchen area. Patrons can sit at a long wooden bar to watch chefs make pastas, a Roman ancestor of pizza called pinsa, and desserts by hand. Chefs deliver dishes to tables and describe the ingredients to patrons. It's a casual yet trendy dining space with wood and copper accents, a wall displaying wines, and soft music playing over a sound system.
The diner's menu is a mix of Roman dishes and novel concepts. Some items served are build your own pasta options, beef tartare, cherry pork tenderloin, Italian wines, and San Diego beers.
The chef-to-table concept aims to create more interaction between guests and chefs. Maestoso says this encourages customers to have a stronger bond with the food they are eating.
Prev Next