Students' Actions Raise Money, Awareness for Environment
Sunday, March 18, 2018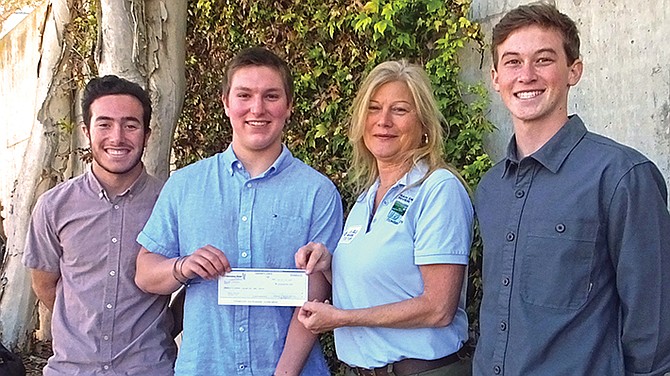 San Diego — Two years ago, three La Jolla High School students formed Clean for a Cause, a nonprofit to recycle plastic, aluminum, and glass at CRV redemption centers and donates funds raised from those recyclables. During this time, Cause has recycled approximately two tons of material. Led by Mason Matalon, a senior at LJHS, Clean for a Cause announced that it has made its first donation to San Dieguito River Valley Conservancy.
Recently, Matalon participated as a volunteer removing invasive ice plant at the San Dieguito Lagoon. "I really appreciate the great work that the San Dieguito River Valley Conservancy does so we decided to make a donation to them."
A $500 check was presented to Trish Boaz, executive director of the SDRVC, which Clean for a Cause chose because of SDRVC's environmental mission that focuses on the local San Diego area.
"I founded Clean for a Cause to provide feasible recycling solutions at events and to redeem the value of recyclables for funds to donate to local environmental organizations," Matalon said.
Boaz said Clean for a Cause represents what SDVRC has been striving to achieve: "a sense of urgency and commitment from our youth to protect our environment and secure our natural legacy." Visit sdrvc.org.
• • •
Perry Mansfield, director of Skull Base Surgery and Head and Neck Oncology at Senta Clinic in San Diego and chairman of the Steven Prewitt Skull Base Disease Foundation, presented a $600,000 donation from the foundation to the North American Skull Base Society at its 28th annual meeting held recently.

The event was held at the Loews Coronado Bay Resort. The meeting brought together medical professionals from a wide range of disciplines to learn about recent advances in instrumentation and technology in skull base surgery and to gain knowledge in challenging skull base pathology from experienced leaders in the field.
"I had the cherished opportunity to know Steven as a patient and dear friend, and I'm humbled to present this donation to NASBS in his name," Mansfield said.
• • •
The San Diego Museum of Art announced the acquisition of two outstanding paintings that are the first of two renowned artists to join the museum's permanent collection "Nymph of the Spring" (ca. 1537-1540), by Lucas Cranach the Younger was purchased from London-based owners with funds provided by Toni Bloomberg; Gene and Taffin Ray; an anonymous donor; Kevin Rowe and Irene Vlitos Rowe and the museum's acquisition fund.
Prev Next